Note: Here at Wealthy Retirement, we'll be honoring Labor Day on Sunday and Monday. Stay tuned as we resume our regular content with Tuesday's Two-Minute Retirement Solution from Steve. Until then, have a restful and safe holiday weekend!
This week, we saw a reckoning in the pharmaceutical sector. It is likely that the companies involved will have to radically change to survive… or else be replaced by competitors.
Purdue Pharma, a private healthcare giant, is haunted by its role in America's opioid crisis. On August 20, it entered discussions to decide the price it'll pay.
The verdict: $10 billion to $12 billion.
Here at Wealthy Retirement, we've talked before about the importance of seeing the healthcare sector like an expert and thoroughly understanding a company before diving in.
After all, the sector can be extremely volatile in the wake of news like this. Not even established companies like Purdue are immune to negative press.
Abbott Laboratories (NYSE: ABT) and Teva Pharmaceutical (NYSE: TEVA) were also charged in several of the lawsuits against Purdue. Teva and Purdue both settled with the state of Oklahoma this spring.
Now Purdue is on the brink of bankruptcy. For it and other makers of opioids, this spells disaster.
But as we've said before, when it comes to healthcare, there's a winner in every catastrophe…
Alternative Medicine Picks Up Speed
In a recent Stat Sheet, we asked Wealthy Retirement readers about their most expensive prescriptions. Several of our readers shared that they avoid opioid painkillers because of the risks they pose.
Readers like these who embrace alternative medicine are well-positioned to benefit from Purdue's downfall.
Take cannabidiol, or CBD, for example. Sales of this natural pain-fighter have doubled every two years since 2014. It's estimated that the American market will reach $22 billion by 2022.
(Note, this doesn't even include the growing market for medical marijuana. This figure covers only CBD, which is a totally different compound from THC, the compound in cannabis that causes a high.)
Now this safer alternative for pain management is available in doctors' offices, natural food stores and even drugstores like CVS.
As Purdue withdraws its aggressive marketing for opioids, CBD is poised to swipe some of its former market share. CBD meets the needs of many pain sufferers, Wealthy Retirement readers included…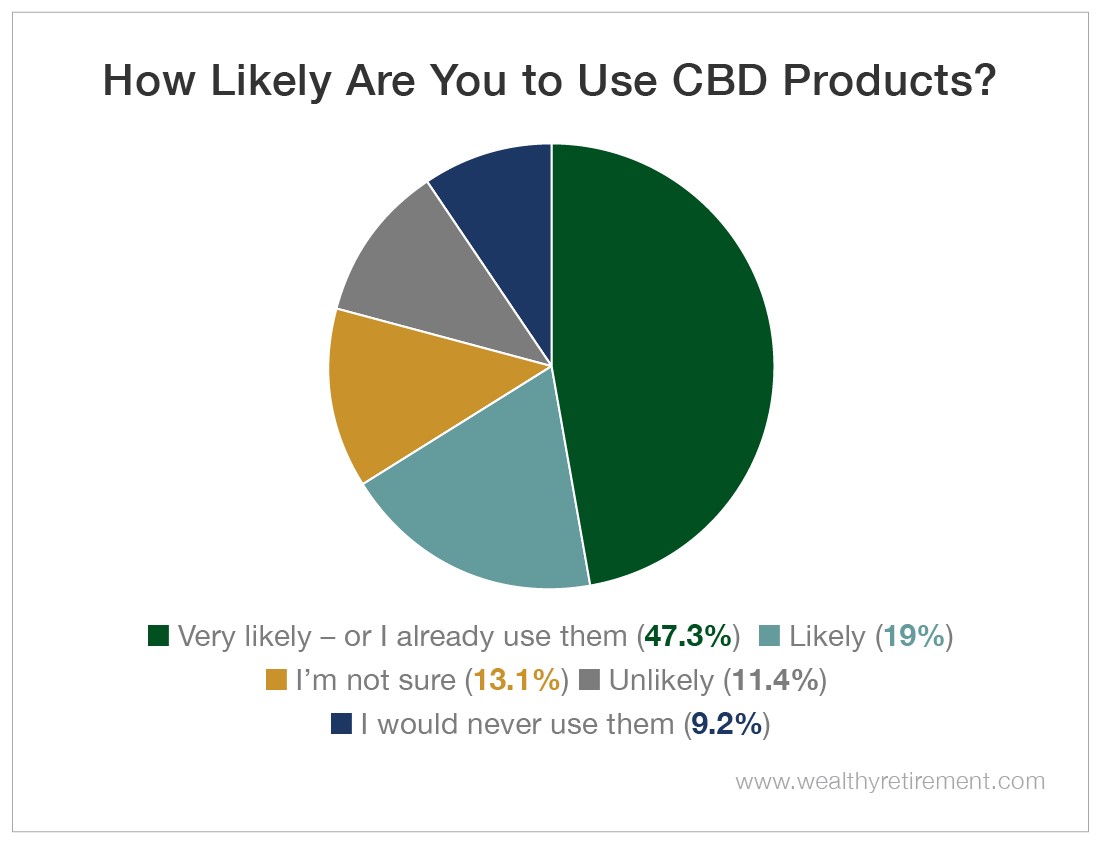 This week, we asked Wealthy Retirement readers how likely they were to use CBD products. Nearly half of our readers reported that they were very likely to try them – or that they already have.
Only 9.2% of our readers plan to avoid CBD products altogether. A combined 43.5% fall somewhere in between.
For our readers who have already used CBD products in the past, or who incorporate them into their current wellness regime, we asked how effective they've found the products to be.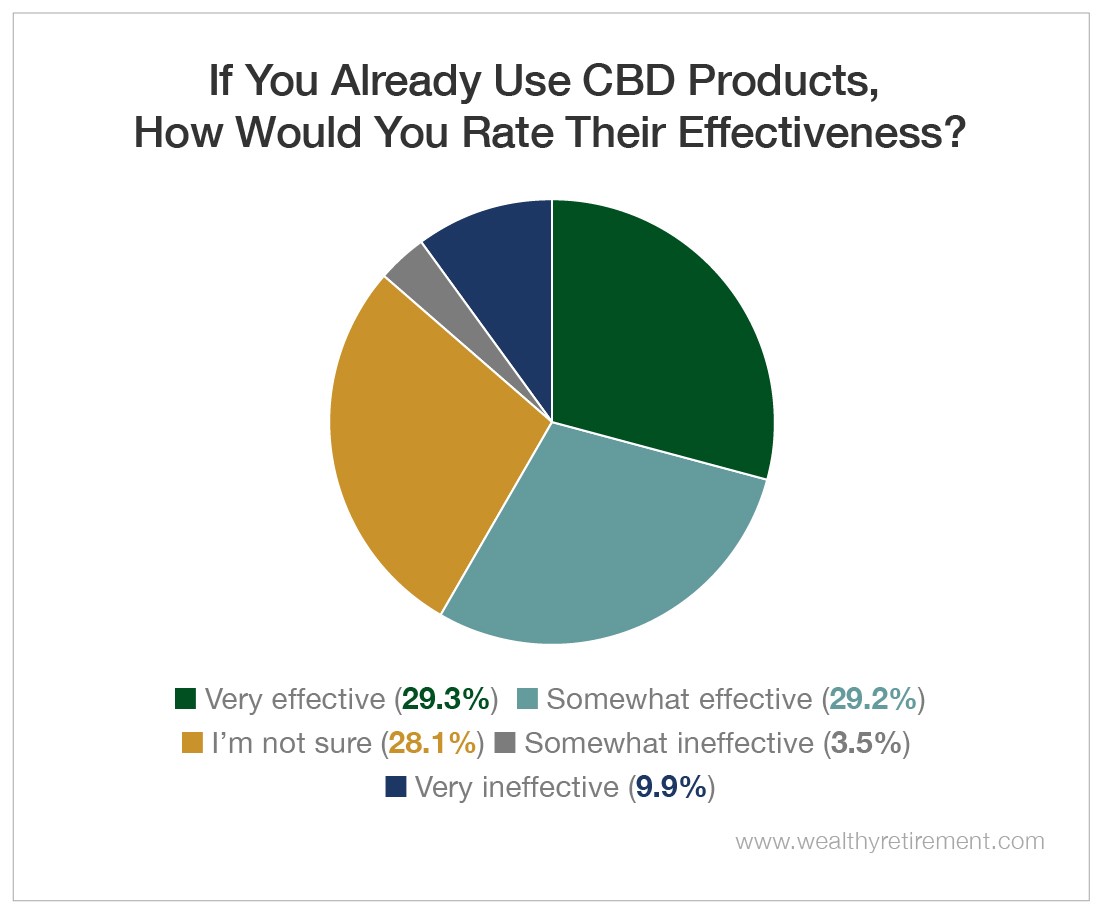 It's worth noting that patients use CBD for a variety of different reasons. It's even been used as a treatment for cigarette addiction.
However, studies in the European Journal of Pain and Journal of Experimental Medicine suggest that it is especially effective for pain management.
Still, regardless of which ailment they were treating, more than half our readers who have used CBD products reported that they were effective.
Natural Pain Relief Takes Center Stage
Because of its safety, accessibility and effectiveness, CBD (along with other alternative treatments) stands a real chance of emerging from Purdue's rubble as a new leader in pain management.
(Investors should be sure to keep an eye on the blooming cannabis industry as well – check out our sister e-letter Profit Trends for more information.)
Like the market as a whole, the healthcare sector is constantly changing. Even giants like Purdue will lose the spotlight if they fail to adapt.
When it comes to your investing and your health, keep an eye out for the companies that commit to putting your best interests first. Disaster may strike in the rest of the sector, but you'll be able to rest easy knowing you're in good hands.
Good investing,
Mable