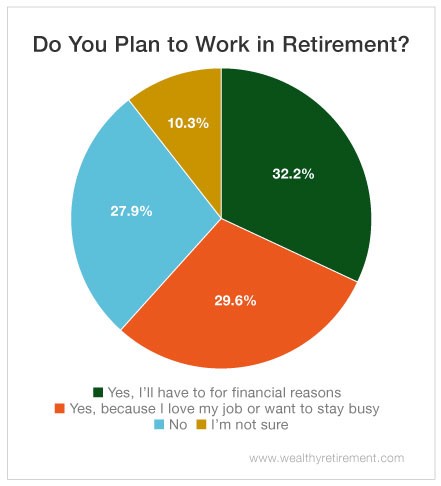 From the moment we enter the workforce, we start planning to leave it.
"Contribute more to your 401(k)," Human Resources advised.
"Make sure you're planning for retirement," your father lectured.
"I can't wait until we're retired and having a beer on the beach in Mexico," your coworker groaned.
It seems all of us (or at least those of us fortunate enough to have jobs with benefits) share the same end goal: retirement.
But times are changing. People are living – and working – longer. Pension plans have nearly become extinct. And the number of older people in the U.S. is soaring, as are debt levels.
The result? Fewer and fewer people are fully retiring.
In fact, in our recent survey, even though 28% of you said you'll leave the office for good, even more of you plan to continue working. More than 60%, to be exact.
For some, it's due to a lack of finances. That isn't surprising – we've all heard the scary statistics about the retirement crisis and how little most Americans have in their nest eggs. Add to that dwindling Social Security funds and rising healthcare costs… yikes.
But for others, it's less about needing to work and more about wanting to.
Whether you love your job or simply think you'd go stir-crazy without something to do, choosing to work in retirement – not being forced to for financial reasons – can have a lot of perks.
It gives you a reason to get out of bed in the morning (other than to watch reruns of Golden Girls) and keeps you socially connected. Working longer and staying active can also improve your mental and physical health, and help delay the onset of age-related diseases. And, of course, the steady stream of income doesn't hurt.
Retiring isn't for everyone. But if it's something you dream of achieving, start preparing now so that you can.
Good investing,
Amanda
Disclaimer: Results and data are courtesy of a survey of Wealthy Retirement readers.