Cannabidiol, or CBD, has been making headlines lately. This week, beauty chain Sephora began offering Lord Jones, a brand of CBD, in stores across the U.S., joining retailers like CVS and Walgreens in making CBD oils, supplements and other products more accessible.
If you're not familiar with CBD, it is a natural compound from the cannabis plant. While it doesn't have any psychoactive properties, it's been shown to alleviate pain.
While cannabis has been used to alleviate pain for centuries, the medically sanctioned extraction of CBD began in England in 1998. Misconceptions about cannabis use led to its inclusion in the United States' Controlled Substances Act of 1970, which listed marijuana as a Schedule I drug alongside heroin and LSD even though it doesn't share those drugs' health risks or potential for addiction.
In recent years, though, the prohibition has been lifted on CBD. And soon, cannabis could follow suit. In the meantime, the nonpsychoactive compound has helped many Americans with pain relief.
For this reason, this week, we asked our readers if they have ever used CBD products. To those who hadn't used CBD, we asked to what extent they might be willing to try it.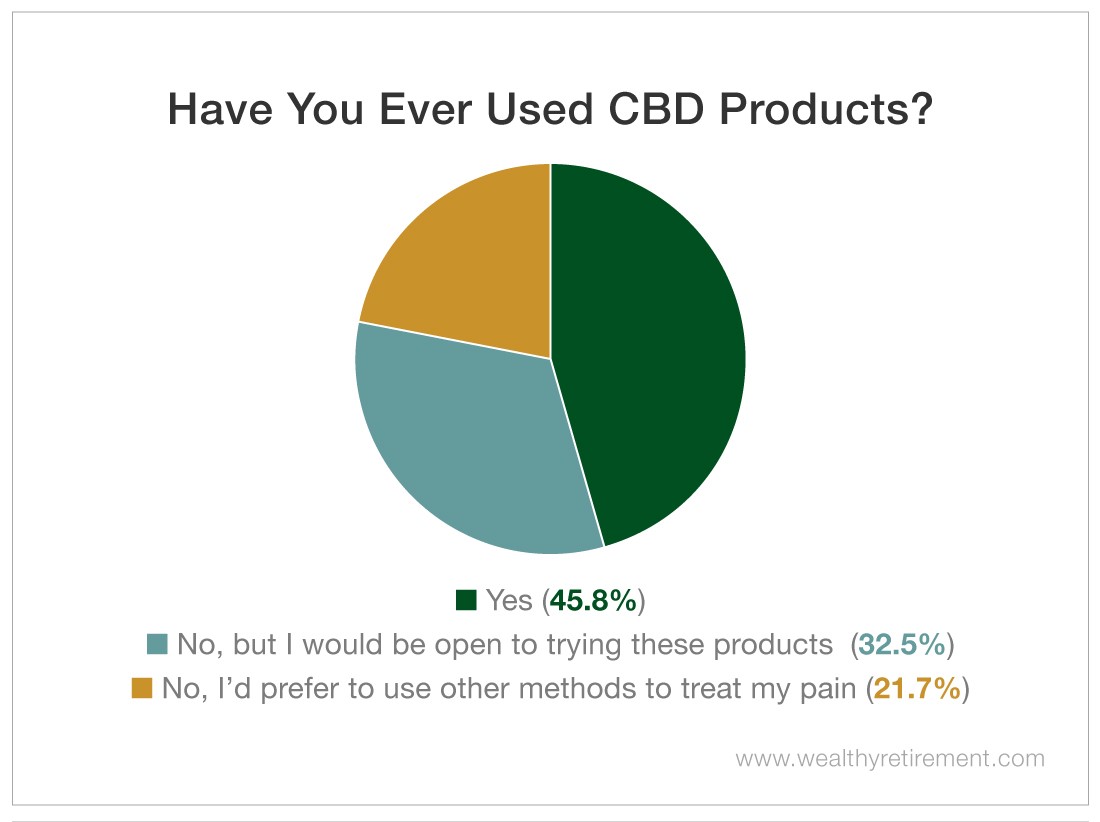 Slightly less than half of our readers indicated that they had already used CBD products. Of those who had not used CBD before, the majority stated that they were keeping an open mind.
For those who are interested in trying CBD for the first time, now may be a good time to get started. More CBD-infused products are available now than ever before, especially as companies like Cronos begin offering food and beverages enriched with the compound.
(While CBD causes few side effects, it's also important to speak with your doctor before giving consumable options a shot to ensure that they won't cause interactions with any of your current medications.)
Patients aren't the only ones who stand to benefit from the growing market – as Chief Trends Strategist Matthew Carr wrote in our Stat Sheet recently, "CBD is working its way into everything. And this industry is expected to explode to more than $20 billion in just a couple of years."
This makes sense. According to the American Public Health Association, while only 12% of the population is older than 65, this group uses 34% of all prescription medications. What's more, the number of seniors taking five or more medications tripled between 1988 and 2010.
This brings the average number of medications per senior up to five – and up to seven for seniors who are in nursing homes. When several of these medications are expensive, cause harmful side effects or carry high risks for addiction, it's no wonder that more and more seniors would seek out a safe alternative for managing pain.
This is especially true for seniors who ignore or underreport their pain because they dismiss it as a natural sign of aging. In reality, more patients who experience long-term disability do so because of their chronic pain than because of any other cause, and pain is the most common cause of Americans' healthcare use.
While attempting to treat this pain, many of us ignore the remedies that exist in nature. And while CBD products can't replace the care of a doctor and aren't right for everyone, for many of us who experience chronic pain, they could provide a safe and reliable source of relief.
CBD is only one of the 25,000 products that the hemp plant is used to develop. The plant is known to reduce bad cholesterol and improve nervous system function, and it contains a variety of vitamins and minerals.
While some treatments that take advantage of hemp's healing properties – for example, medical cannabis – have yet to escape the misconceptions that surround them, CBD products continue to gain recognition as a safe alternative for pain management.
Next time you visit the doctor to talk about managing pain, consider asking to what extent CBD products could help alleviate your symptoms. And next time you consider shrugging off common ailments, remember that you may have more options than you think.
Good investing,
Mable