The latest tweets from the White House have sent investors into a tizzy. But this is nothing new.
Last year, investors suffered through the worst market since the Great Recession. The Dow Jones Industrial Average ended 2018 down 5.6%. Meanwhile, the S&P 500 lost 6.2% as the Nasdaq shed 4%.
But 2018 ended on a truly sour note. Investors were hammered by the worst December since the Great Depression.
And when the carnage was over, Deutsche Bank posted an even more sobering statistic – 93% of all global assets finished 2018 in negative territory.
This made 2018 the worst year on record.
Worse than the Great Recession and the Great Depression…
But there was one bright spot… a beacon of hope.
One that I believe will continue to shine bright in 2019, providing investors with the chance at life-changing returns…
Cannabis.
Following in Canada's Footsteps
In October 2018, the weed world was set ablaze when Canada legalized recreational marijuana nationwide.
This was a moment I spent more than a year preparing investors for – pointing them toward what I thought would be the biggest winners.
And no surprise, shares of major Canadian licensed producers were propelled to new highs as the legal adult-use market became a reality.
Canopy Growth Corp. (NYSE: CGC), the largest and most connected pot producer, went from $25 to nearly $60 per share in 2018…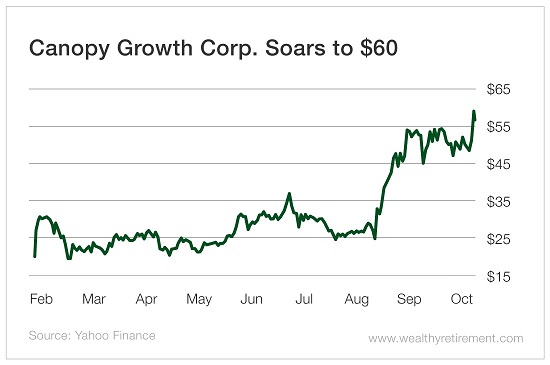 Back in 2017, I crowned Canopy Growth my No. 1 pot stock to own. At the time, it was trading at less than $10. Since then, it has rewarded investors handsomely.
Shares of Tilray (Nasdaq: TLRY), which I told investors about before it IPO'd in July, shot up from $23 to an intraday peak of $300 in only two months…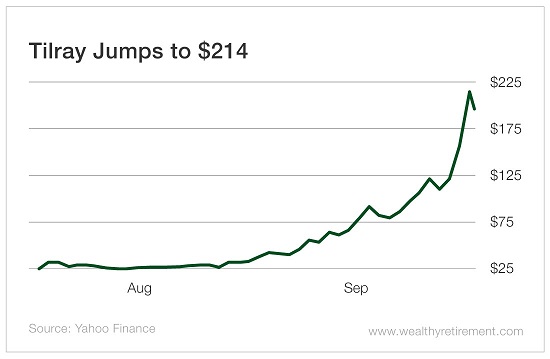 And shares of Cronos Group (Nasdaq: CRON) skyrocketed as it became the first pot stock to uplist to a major U.S. exchange…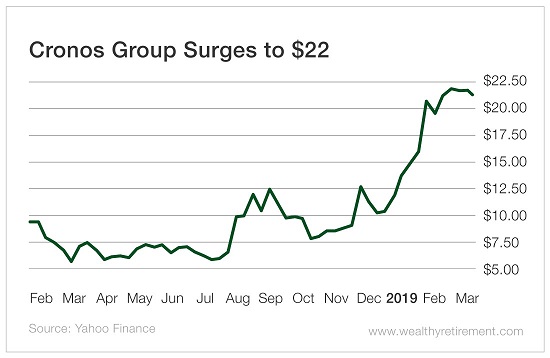 When I first recommended Cronos to investors in 2017, it was trading for just more than $2 per share. By March 2019, those shares peaked intraday at more than $25.
So while the broader markets struggled, there were some very bright spots for cannabis investors. And that was just among the big names in the space.
If investors dug a little deeper and took a chance on some penny pot stocks, the returns were even greater.
Over the past year, shares of CV Sciences (OTC: CVSI), Charlotte's Web Holdings (OTC: CWBHF) and Flowr Corp. (OTC: FLWPF) have gained more than 500% apiece…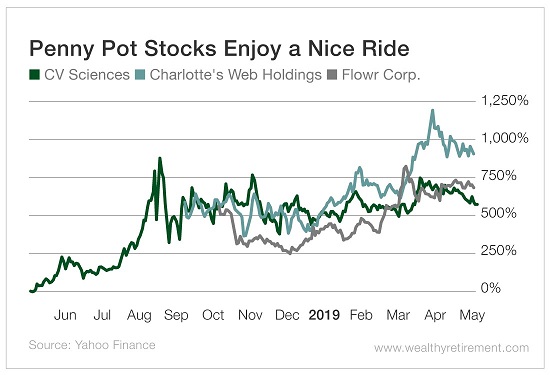 And that's just three of them!
More importantly, CV Sciences and Charlotte's Web are CBD producers.
Unless you've been zonked out for the past few months, you know that CBD – the non-psychoactive component in cannabis – is a booming business.
CBD is working its way into everything. And this industry is expected to explode to more than $20 billion in just a couple of years.
CV Sciences and Charlotte's Web are also American cannabis companies. And I expect them to be the first American cannabis companies to uplist to a major U.S. exchange.
I believe they represent the leading edge of a major shift about to take place in the cannabis space: the rise and domination of the American cannabis industry.
The Windup to Watch
At the moment, 33 states and the District of Columbia have legalized medical marijuana. We also have 10 states and the District of Columbia that have legalized adult-use – or recreational – cannabis.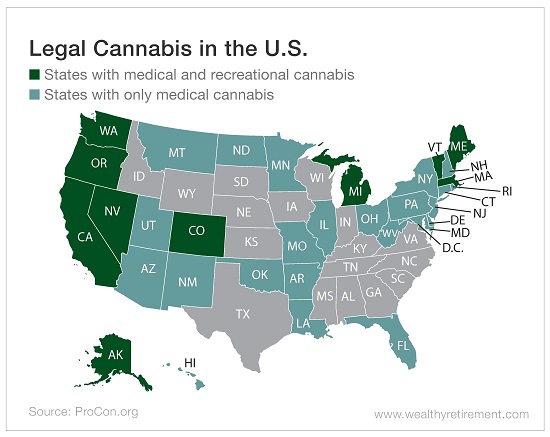 The majority of the U.S. population lives in a state where it's legal to buy pot in some form or another.
It's an issue that has bipartisan support. There are major pieces of cannabis legislation working their way through Congress as we speak. It's the one issue Republicans and Democrats can agree on.
And globally, this market is expected to be worth more than $500 billion.
In the U.S., it's going to be an $80 billion market by 2030. And from my perspective, that's a conservative estimate.
Now, when Canada legalized marijuana nationwide, pot stocks exploded.
Today, Canadian cannabis producers like Aphria (NYSE: APHA), Aurora Cannabis (NYSE: ACB), Canopy Growth, Cronos Group and Tilray are household names to savvy investors.
We've booked triple-digit wins on these, and they're now regularly covered by the mainstream financial news media.
Those are fine companies.
But investors are sleeping on the U.S. opportunity!
Here's a breakdown of the market cap of U.S. and Canadian pot stocks compared with their estimated market sizes…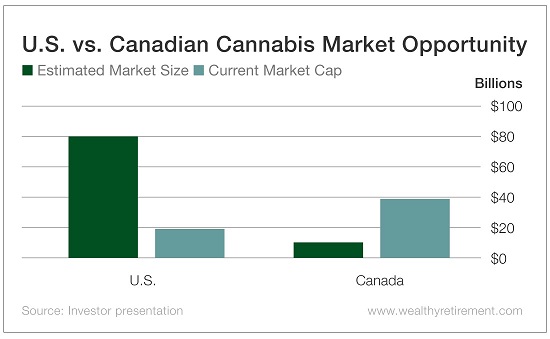 Canadian pot stocks are worth several times what their American counterparts are.
But the U.S. projected market size is so much larger.
Despite the recent turmoil, the major indexes are up double digits in 2019.
But pot stocks as a whole are up more than 40% this year. Meanwhile, some penny pot stocks have soared triple digits. And that's primarily because of Canadian legalization.
Profit on the End of Prohibition
So before you shrug this off as a fad or a bubble, let me leave you with this…
U.S. legalization is coming.
That's a fact.
It's not a question of "if" but "when."
Investors who position themselves for this major new market to be born will be in for the windfall of their lives.
This will be the greatest wealth creation event in 20 years.
Don't let this opportunity go up in smoke.
Here's to high returns,
Matthew