Fintech, short for financial technology, has been quietly (and not so quietly) disrupting our daily lives. Today, it's getting harder and harder to avoid it, as it changes the ways we save, spend and invest our money.
Many of us are taking advantage of it.
In a recent Wealthy Retirement survey, nearly 16% of respondents said they use fintech services every day. Another 25% of those polled said they use them regularly, and 15% use financial technology only occasionally.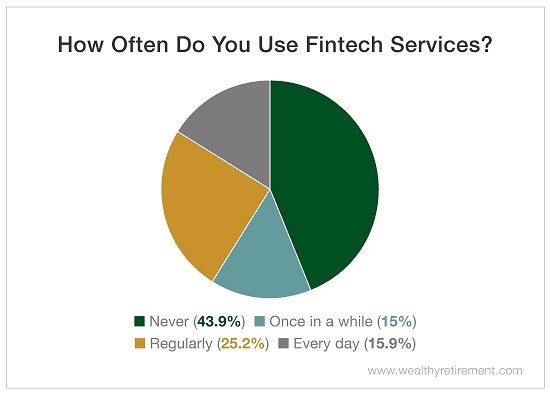 Digital payments are the most popular fintech service. Nearly 30% of respondents use digital payments most often, while about 4% said that they use wealth management tools like robo-advisors.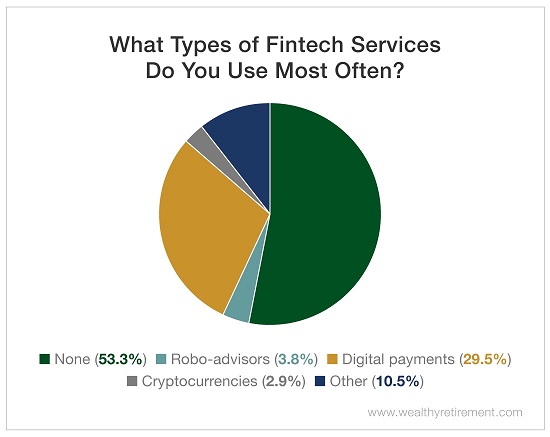 But a large proportion of our readers have yet to embrace fintech: Nearly 44% of respondents said they've never even used it.
That's a huge growth opportunity for the current fintech market.
Fintechs have disrupted the way that banks do business, and more and more people are discovering its convenience every day. The current market still has a lot of potential to grow.
Retirement saving and investing are quickly becoming automatic with new services like Acorn and Wealthfront. Budgeting is easier too because financial technology has made it simpler than ever to monitor spending.
But this is just the beginning…
The market for financial technology has the potential to grow into a staggering $100 trillion.
Traditional banking is quickly becoming obsolete. Soon there will be no need to walk into a bank's lobby to perform any financial transaction.
Fintechs are reinventing the financial system, and financial consumers aren't the only ones who stand to benefit. Fintech investors are set to make billions.
Last Thursday, online fixed income trading platform Tradeweb Markets (Nasdaq: TW) went public. On the day of its IPO, Tradeweb's stock price quickly traded up 25% higher than its offering price.
Keep a close eye on the fintech revolution. It has the opportunity to make your dealings with financial services easier while making your portfolio richer.
Good investing,
Kristin