Editor's Note: World-renowned cannabis investing expert Matthew Carr has been busy.
As editor for Wealthy Retirement's sister e-letter Profit Trends, Matthew has been studying trends in the cannabis sector, attending conferences with market leaders and hosting exclusive one-on-one interviews with pioneers in the industry.
With each round of research, travel and interviews, he becomes even more certain of marijuana's ability to transform the U.S. market.
In fact, Matthew is hosting a one-of-a-kind free webinar at 1 p.m. on Tuesday to reveal his research: the Marijuana Millionaire's Event.
Click here to save a spot in the broadcast of Matthew's live presentation.
If our readers at Wealthy Retirement are any indication, this emerging industry is in high demand…
Medical Cannabis for Pain Relief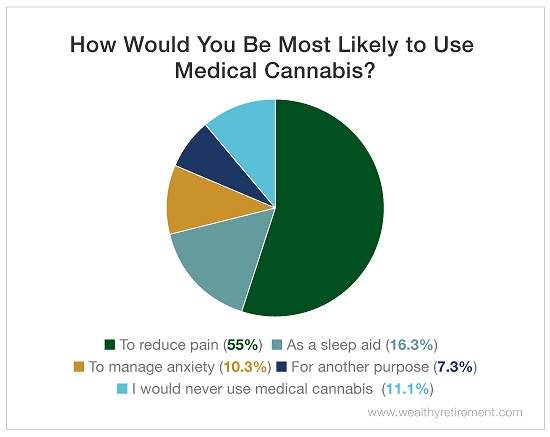 More than one-half of our readers indicated in a recent survey that they would use medical cannabis for pain relief. Other respondents were interested in its applications as a treatment for anxiety, as a sleep aid, or even as a tool for managing cancer treatment side effects and conditions like epilepsy and multiple sclerosis.
While medical cannabis is not right for everyone, it is a safer and more effective treatment tool than common misconceptions would have us believe.
For example, not all treatments produce a high. CBD oil, for instance, has no psychoactive effects. (Those are caused by THC.) Additionally, medical cannabis does not have to be smoked, and according to the National Academy of Medicine and the University of Louisville, it is not the "gateway drug" that pop culture would have us believe.
Studies conducted at these universities found no evidence that cannabis use would lead to experimentation with more harmful drugs. In fact, studies from the University of California Berkeley have indicated that medical cannabis could be a much less dangerous and less addictive alternative to opioids.
In a country where 68% of drug overdose deaths involve an opioid, it's past time that an alternative became available. Individuals should consult with their doctors to determine whether using medical cannabis for pain relief is the right treatment for them.
Matthew's research indicates that the conditions are right for medical cannabis to revolutionize the pharmaceutical sector as we know it. By setting the story straight and legalizing medical (and in time, recreational) cannabis use, the U.S. stands to help its citizens with a host of different medical problems – and let its savviest marijuana investors profit…
Click here to register for Matthew's live presentation to learn more about how medical cannabis can transform the American market. Then, watch his recent interview with Harvard-trained Dr. Jordan Tishler to learn more about the many applications of medical cannabis.
Matthew offers a breakdown of the interview below.
– Mable Buchanan, Assistant Managing Editor
---
Investors are laser-focused on the adult-use market. But there's a persuasive argument to be made that the medical market will be larger.
That's because cannabis has a wide range of medical uses. And it wasn't until recently that marijuana was considered to be a "dangerous drug."
Five thousand years ago, Chinese emperor Shen Nung prescribed cannabis for a number of different ailments. In ancient India, it was seen as a gift from the gods.
And in Materia Medica, published in A.D. 70, Roman physician Pedanius Dioscorides recommended cannabis for earaches and diminished libido.
It wasn't until the 1990s that scientists discovered humans had an endocannabinoid system – an entire pathway that reacts to cannabis and affects appetite, memory, energy, stress responses, immune functions, sleep and more.
In the couple of decades since, attitudes toward cannabis have started to shift – especially among medical professionals.
Not long ago, I sat down once again with Dr. Jordan Tishler. The Harvard-trained physician is president of the Association of Cannabis Specialists and founder of the practice Inhale MD.
He shared with us the most common – and most effective – ailments he prescribes cannabis for. For one condition, he even dubbed cannabis the "knight on the white horse" (and it's not pain or cancer).
Dr. Tishler also explained what he thinks is ahead for medical cannabis. And we delved into cannabis's ability to battle the opioid crisis – as either an alternative or a treatment.
Lastly, Dr. Tishler shared how big he thinks the medical marijuana market will ultimately be.
Through my free e-letter Profit Trends, I'm fortunate to get to sit down with a variety of cannabis experts. After watching this video, as with all my interviews with Dr. Tishler, you'll walk away with new insights and knowledge – an imperative in today's rapidly changing cannabis industry.
Here's to high returns,
Matthew
P.S. In my free upcoming webinar, I'll be discussing this rapidly changing sector – and how to profit from its evolution – in more detail. Click here to save a spot.
This industry is set for a boom, and I want you to have time to enter the space before its most promising stocks start their biggest run-ups yet.