Editor's Note: Today's Stat Sheet comes from The Oxford Club's Chief Trends Strategist Matthew Carr. As America's No. 1 marijuana stock expert, Matthew is dedicated to identifying opportunities in this emerging industry and is excited to share his expertise with Wealthy Retirement readers.
– Mable Buchanan, Assistant Managing Editor
There's no question – you want to hear about dividends.
That's why you subscribe to this letter.
You're looking for the best and greatest income strategies to fund your retirement. You want safety and security.
You're interested in protecting your wealth – and likely you're investing not just for yourself, but also so that you can pass that wealth on for generations to come.
I'm talking about your children and maybe even your children's children.
I started out dividend investing. Marc Lichtenfeld and I have worked together and have been friends for many years. We also share a similar belief… All investors should have a portfolio of dividend stocks.
I believe the foundation of a beginner investor's portfolio should consist of dividend stocks.
But from decades of experience, I know the downside to dividend investing is that maintaining a good dividend investment is akin to watching paint dry.
Perpetual Dividend Raisers chug along methodically. They're often slow movers, not highfliers.
I understand – you want safety.
Every investor loves that jolt from a big gap up – an earnings beat or a major announcement that propels shares higher. So today, I'm going to reach into my goody bag and share something with you that I don't share with just anyone.
In fact, it's something I've shown to only a select group of investors. But it offers the compounding potential of a dividend reinvestment plan (DRIP) with soaring share price gains…
I'm talking cannabis dividend payers!
For the past few years, I've been covering the marijuana industry. I've penned tens of thousands of words in analysis and research.
I've spent hundreds of hours interviewing CEOs, industry experts, advocates and medical professionals, and I've logged thousands of air miles attending conferences and events and visiting businesses.
I'm not going to lie… Most investors are interested only in the explosive returns cannabis companies offer.
They want to know which ones are offering the best and most innovative products, or which ticker symbols offer the highest potential for gains.
I'll be up front with you… Many of these are stocks that you can purchase quite cheaply. Sometimes, you can do it for less than $5 per share.
And these are my favorite opportunities to discuss and lead investors to.
They can turn a small stake into a sizable one quite quickly. I expect the global cannabis market to be worth more than $200 billion by 2030. That's tremendous growth from the $17 billion it'll be this year.
But many investors don't realize there are cannabis companies that pay dividends.
These are stocks that combine the best of both worlds: the high-flying potential of pot stocks and dividend income. They're also part of what I call my "Reefer Retirement Plan."
So today, I'm going to share my favorite of these…
At the top of my "Reefer Retirement Plan" list – even though its dividend yield isn't the largest – is Innovative Industrial Properties (NYSE: IIPR). The company is a medical cannabis real estate investment trust (REIT).
Cannabis is one of the fastest-growing industries in the U.S. At the moment, 33 states and the District of Columbia have legalized medical marijuana.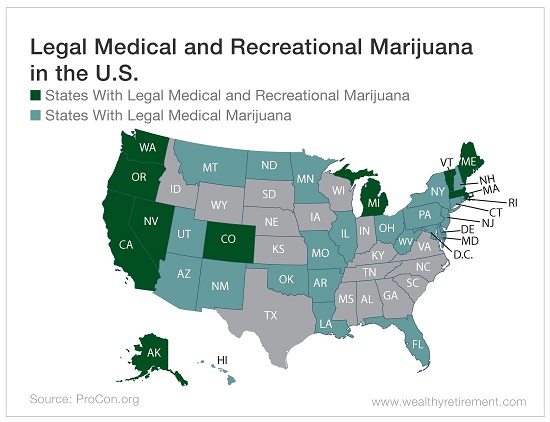 As each new state ends prohibition, of either medical or recreational cannabis, there's a new market born. That means there are companies that need dedicated grow space, particularly highly sought-after greenhouse space that can be in operation year-round.
This is where Innovative Industrial Properties is far and away the industry leader. Its current portfolio includes 19 properties, representing 1.3 million square feet in 11 states.
But here's the most important part for this cannabis landlord: 100% of this space is leased with an average remaining lease term of 14.9 years.
These are long-term contracts where the REIT takes a hands-off approach. It not only works regular rent increases into its agreements but also accounts for renters to cover variable expenses.
As marijuana legalization has spread across the country, the company's business has been booming. In the fourth quarter, Innovative Industrial's revenue surged 111% to $4.7 million.
And because it's a REIT, the majority of that has to be returned to shareholders.
Innovative Industrial's dividend payout has increased 40% to $0.35. And investors don't have to worry because its adjusted funds from operations surged 344% to $0.38.
But here's where it gets even better…
For the first quarter of 2019, Innovative Industrial announced its payout would be $0.45. That not only is a 29% increase from the fourth quarter but also is an 80% increase year over year.
As Innovative Industrial Properties continues to expand and grow its business, pushing its revenue higher, its dividend will only march higher. And right now, it offers a 2.2% dividend yield for $1.80 per share per year.
On top of that, shares have scorched the broader markets in 2019…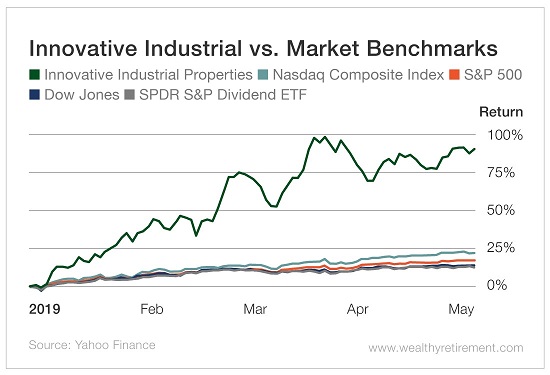 Innovative Industrial Properties shares are up 90% so far year to date!
That smokes the performance on the Dow Jones Industrial Average, Nasdaq, S&P 500 and SPDR S&P 500 Dividend ETF (NYSE: SDY).
There is no sector of the market more exciting than cannabis. Over the next decade, it'll skyrocket in size as new states – and new countries – legalize marijuana in some form or another.
The biggest gains will be seen by penny pot stocks. These will soar, turning small stakes into fortunes as the companies enjoy a meteorically high rise along with the industry.
But there are plays for income investors. There are cannabis companies that pay dividends, like Innovative Industrial Properties. These combine the best of both worlds in what I call my "Reefer Retirement Plan."
Here's to high returns,
Matthew