Today, nothing is apolitical – not even investing.
This week, instead of asking Wealthy Retirement readers about retirement planning, we got personal. We asked about political donations. Consistent with the division that characterizes today's politics, we discovered that our readers are almost evenly split between those who made political donations in 2018 and those who did not.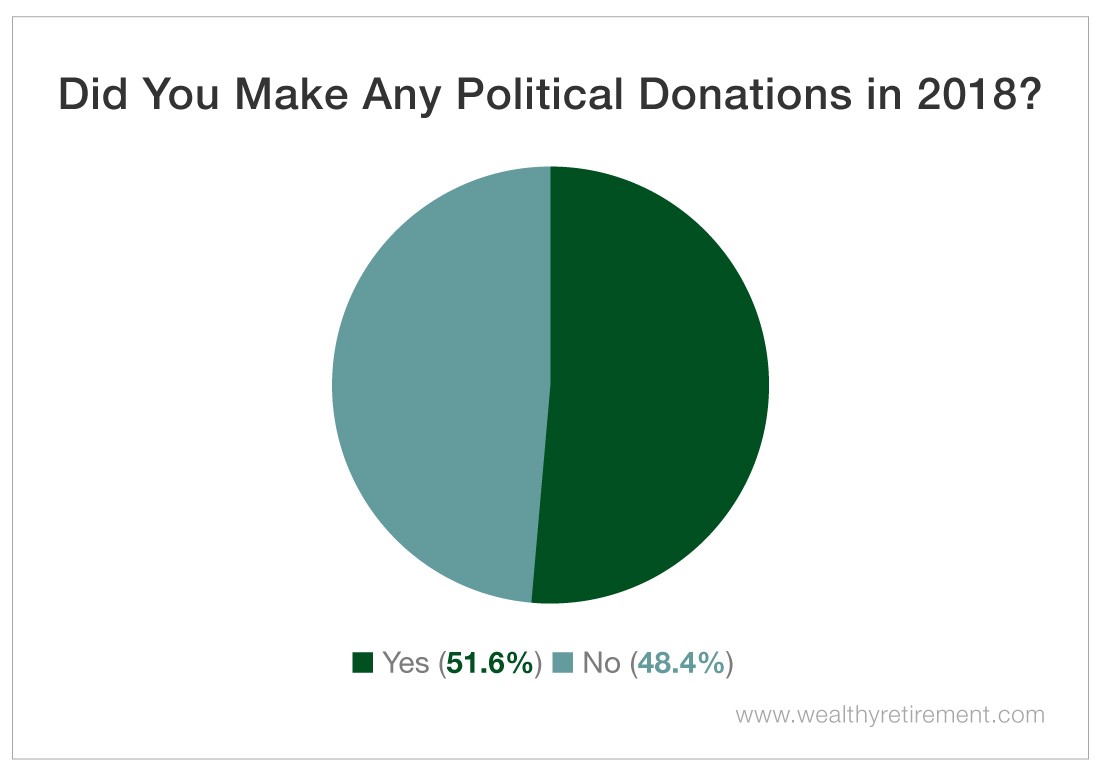 Business is fundamentally linked with politics; but as grassroots candidates who reject corporate money and rely on individual donations gain traction, our political contributions will have more talking power than ever.
What does that mean for business?
Serving "Shareholders" – in Business and in Politics
Nick Hanauer, entrepreneur and original Amazon investor, argued last winter in a Forbes interview that the key to business success is developing "a great civic product" that is also competitive.
This aspiration toward servant leadership isn't unique. It's also common to the management styles of dividend achievers, or companies that have demonstrated a commitment to consistently raising their dividends. In fact, Perpetual Dividend Raisers like Microsoft (Nasdaq: MSFT), IBM (NYSE: IBM) and Best Buy (NYSE: BBY) have been ranked among the most justly managed large cap companies available.
Like political parties, these companies know that shareholders may commit to their company long term. These companies reward investors with voting rights in corporate elections and typically strive to act in their best interests.
But in the political sphere, on both sides of the aisle, we've been feeling proverbial dividend cuts.
Heavily entrenched political actors sometimes seem to punish constituents over time instead of reward them. Campaign finance is often opaque, so it's hard to know where our donations are put to use.
It's time that the organizations we support stop taking our commitment for granted…
To Cross or Keep the Party Line?
A study by the Center for Responsive Politics published in The Wall Street Journal found that 2018 marked the first year that retired persons donated more to Democratic organizations than to Republican ones, breaking a 29-year trend.
But Wealthy Retirement readers have countered this new shift…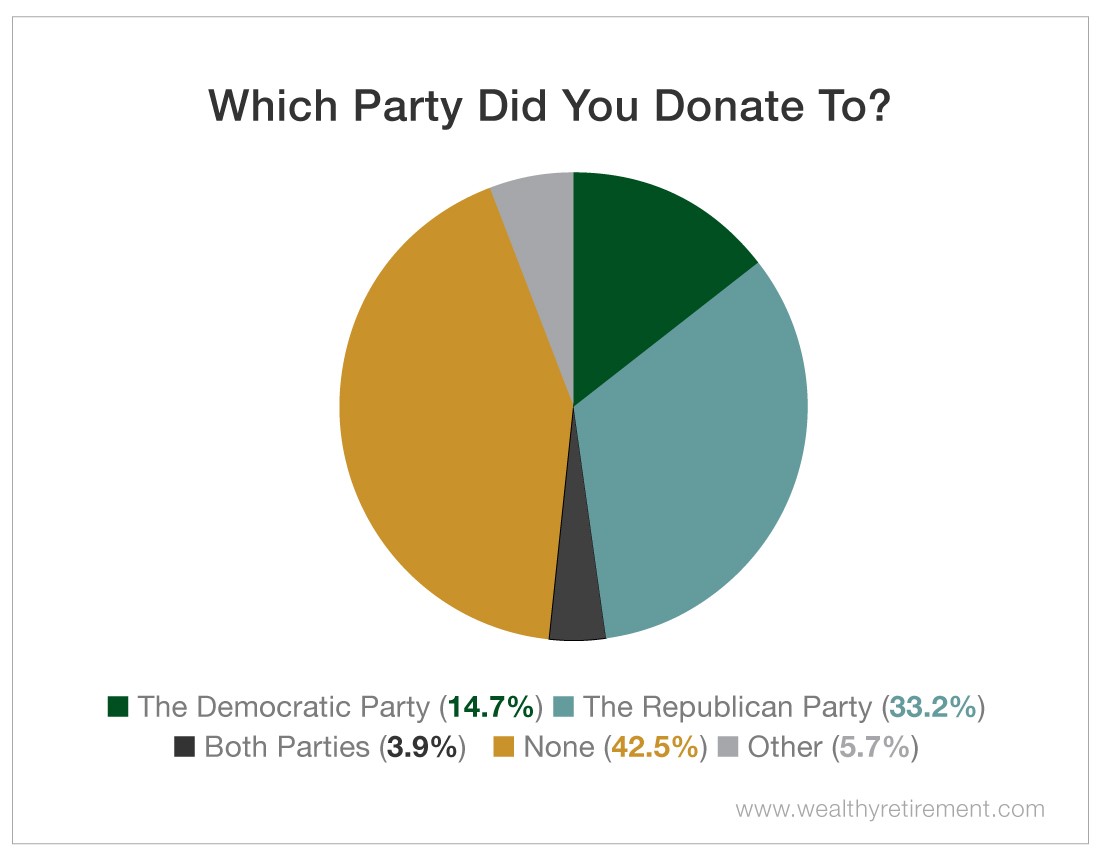 Almost one-third of our respondents donated to the Republican Party compared with 14.7% of readers who donated to the Democratic Party. Just under 4% donated to both parties, and another 5.7% donated to unaffiliated organizations.
Several also wrote in to explain that they did not make any political donations because they feel disillusionment with their party.
But some were keeping the faith…
Getting Your Best Value
Whether they supported organizations that fight for their ability to purchase firearms or organizations that work toward promoting civil rights, several of our readers who made political donations in 2018 were motivated by personal, even if not political, causes.
However, donations aren't the only way to support causes that you care about.
Readers who are interested in supporting businesses that embody sustainability, offer a positive social impact and commit to just management can look into ESG investing, or environmental, social and governance investing, in which investors seek out companies that represent these values.
Investors who use ESG strategies don't earn a noticeably different return from their counterparts, and there are even exchange-traded funds (ETFs), like the iShares MSCI USA ESG Select ETF (NYSE: SUSA), to make the process simple.
Investors who hope to let their portfolio represent their priorities should ask themselves serious questions before a purchase.
Does this company represent Hanauer's ideal of a civic benefit, and if so, is it also competitive?
Will this company honor your interests the way you'd hope your representatives would?
Explore ways in which you can let your investing reflect your values, but also be sure that any new picks have strong fundamentals and value your commitment to their business.
Good investing,
Mable