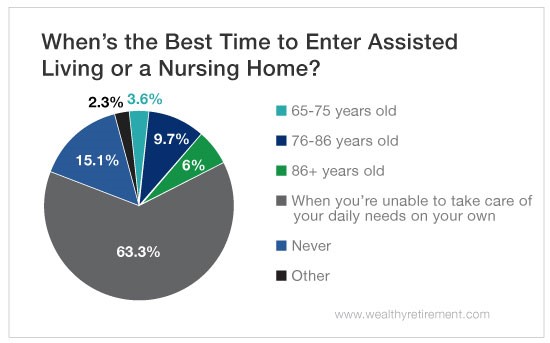 Getting older isn't always fun, but as my grandfather used to say, "It sure beats the alternative!"
At least for now, aging is inevitable. And although parts of it are enjoyable, living into your 70s, 80s and 90s (or even longer) has its downsides.
As we age, it can get harder to complete routine household chores and even take care of our daily needs. So there may come a time when it's necessary to get some extra help.
Sometimes it even requires moving out of the place you call home.
So when should you make the call?
According to our survey, the majority of our readers – more than 63% – say they the best time to move to an assisted living facility or nursing home is when they're unable to take care of themselves… not before.
The results aren't surprising. No one wants to feel like they're giving up their independence. And many prefer to live at home if possible because it's (supposedly) less expensive than paying for assisted living.
Living in a "home" isn't cheap. Depending on the level of care, it costs an average of $3,750 per month for assisted living and $8,121 per month for a nursing home.
In most cases, aging at home will save you a lot of money… but not always. If you need the services of an in-home aide, it'll cost an average of $4,099 a month for just eight hours a day. That's 9.3% more expensive than living in an assisted living facility!
Depending on the kind of care needed, it may make sense (and save cents) to move into an assisted living program before it becomes a necessity.
There are other factors to consider too.
Living at home can be isolating for seniors. Many retirees cut back on entertainment and socializing to save money.
But assisted living facilities often provide residents with daily activities and social events. The activities help seniors stay physically and mentally fit and go a long way toward improving their quality of life.
Of course, not all senior "homes" are created equal. Some provide residents with very limited levels of help or organized activities. And unfortunately, others are real dumps.
Moving into a senior care facility is a life-changing decision. So choosing the right one is a decision that shouldn't be rushed.
In a best-case scenario, know where you'll want to go before you need it. You don't want somebody to make the decision for you.
Wealthy Retirement readers agree.
Nearly 69% of you have already toured an assisted living facility or nursing home. And another 5% are planning to do so in the future.
Aging is inevitable… and sometimes moving is too. If you do require more assistance in your later years, you'll want to be prepared.
Good investing,
Kristin