Despite President Trump's efforts to revive the coal industry, it is dying.
The production and use of coal are at 40-year lows even though the economy is twice the size that it was four decades ago. And more coal plants have shut down in the past two years than in the preceding eight.
That's not good news for Alliance Resource Partners (Nasdaq: ARLP), a coal mining partnership with operations in Illinois, Indiana, Maryland, Kentucky and West Virginia.
It pays a 12.5% dividend yield, which can help appease investors as the business deteriorates. But can those investors count on getting paid the $0.54-per-share quarterly distribution?
Cash available for distribution (CAD), a measure of cash flow for master limited partnerships (MLPs), has been declining over the past few years.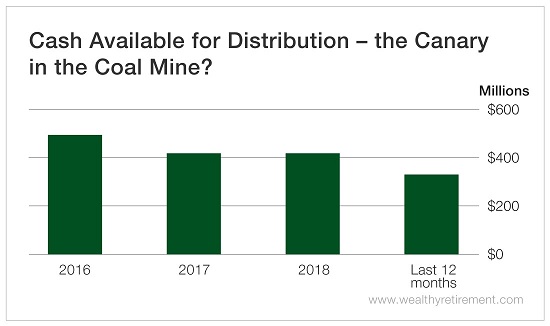 There are no estimates for CAD for 2019 or 2020. Revenue is forecast to grow 7% this year but slip 2% next year.
While earnings are projected to grow in 2019, next year Wall Street expects a 34% decline, after which Alliance Resource Partners' revenue will slide to its lowest level since 2015. That doesn't bode well for cash flow.
As of now, the company can still cover the distribution – but if CAD follows earnings next year, it's going to be pretty dicey.
Also not instilling confidence are two dividend cuts in recent years.
Alliance Resource Partners slashed its distribution in 2016 from $2.66 to $1.99 and then cut it again in 2017 to $1.88. The company has raised its distribution the past two years, but the payout is still below where it was in 2013.
SafetyNet Pro is a quantitative model.
It doesn't know the coal industry is dying. Even without that knowledge, the dividend safety rating for Alliance Resource Partners is low because of declining cash flow and a history of recent distribution cuts.
When you look at the state of the industry it's in, the low dividend safety rating makes even more sense.
Dividend Safety Rating: F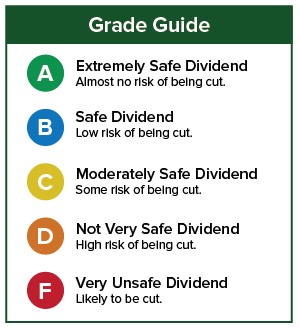 If you have a stock whose dividend safety you'd like me to analyze, leave the ticker symbol in the comments section.
Good investing,
Marc
P.S. For even more information about the dramatic changes that are going on in the fossil fuel industry, check out my colleague David Fessler's new best-seller, The Energy Disruption Triangle: Three Sectors That Will Change How We Generate, Use, and Store Energy.