Editor's Note: Marc is out of the office this week, so Research Analyst Kristin Orman will be covering the Safety Net column.
---
Dividend investing is a lot like shopping at an outlet mall. Most of the time, you spend hours digging through stocks to find a bargain… only to walk away empty-handed.
Sure, there are always plenty of stocks with big dividend yields that seem to be on sale. But, like a lot of outlet mall merchandise, many of these discounted dividend stocks are too good to be true. They're discounted for a good reason.
Tanger Factory Outlet Centers (NYSE: SKT) is one of the largest outlet center owners. It's the only publically traded "pure play" outlet mall real estate investment trust (REIT).
The company has built its business on the thrill of finding a good deal.
The outlet mall concept has been a bright spot among traditional brick-and-mortar retailers – one that is seemingly immune from online competition.
But this year, some have started to question the outlet mall's moat. The REIT has fallen nearly 18% on fears that online shopping is taking a bite out of its market share.
And Tanger is yielding 6.3%.
Is Tanger's dividend a good deal… or is it cheap because it's at risk of a price cut? Let's look at the REIT's fundamentals and find out.
A Hole in Tanger's Pocket?
Last year, Tanger's adjusted funds from operations (AFFO) were $245.3 million. AFFO is a measure of a REIT's cash flow.
It was up 6.9% from the $238.4 million it reported in 2016.
In 2017, Tanger paid out $130.2 million in dividends. The dividend was well-covered by AFFO. Its payout ratio was 53.08%.
But recently, Tanger lowered its 2018 AFFO outlook, which Bloomberg analysts now expect to fall 17.24% to $203 million.
Retail bankruptcies have taken their toll on the company's average occupancy rates. With empty stores, Tanger must offer rent concessions to tenants renewing their leases.
The company isn't opening any new outlet centers either. It's shortening its leases to boost occupancy rates. Management is hoping to preserve upside potential when conditions improve.
Although AFFO is forecast to fall, it's still more than enough to cover the 4.4% dividend increase expected by Bloomberg this year.
Almost an Aristocrat
Tanger has raised its dividend for 24 consecutive years. A boost in 2018 would make it 25.
This would put Tanger on par with the Dividend Aristocrats. Dividend Aristocrats are Perpetual Dividend Raisers that have raised their dividends every year for 25 years or more. They're also members of the S&P 500, which Tanger is not.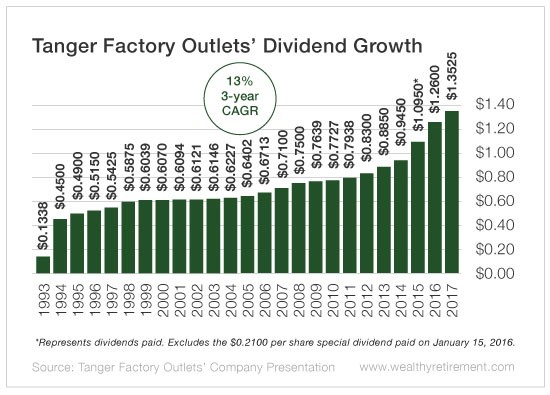 We usually don't like to see declining cash flows. But Tanger's low payout ratio and history of raises make the dividend a safe bet.
However, if AFFO declines again in 2019, Tanger's safety rating could fall with it.
Dividend Safety Rating: B
If you have a stock whose dividend safety you'd like Marc to analyze, leave the ticker in the comment section below.
Good investing,
Kristin