In February 2018, I looked at Sabra Health Care REIT (Nasdaq: SBRA).
Back then, the stock received an "A" rating for dividend safety due to adjusted funds from operations (AFFO), the measure of cash flow used by real estate investment trusts (REITs), being significantly higher than the dividends paid.
In 2017, AFFO was $2.31 while Sabra paid out $1.73 in dividends. At the time, AFFO was forecast to be roughly the same in 2018.
It turns out the analysts were a little optimistic last year. Instead of AFFO remaining flat, it actually dipped to $2.13 per share. Sabra paid shareholders $1.80 per share, so the dividend was still covered.
There are no official analyst estimates this year, but management said to expect AFFO between $2 and $2.08.
So cash flow will still cover the expected $1.80 per share in dividends, but AFFO is headed in the wrong direction. Safety Net Pro doesn't like when cash flow is declining. As a result, the stock received a downgrade.
Sabra Health Care REIT owns the real estate on which healthcare facilities operate.
It has 639 properties with 69 clients that run nursing homes, senior housing and specialty hospitals.
Its properties include…
South Wind Heights, a senior housing facility in Jonesboro, Arkansas
Torrey Pines Rehabilitation Hospital in Las Vegas, Nevada
HealthBridge Children's Hospital in Orange, California.
A Solid Track Record
Sabra Health Care REIT has raised its dividend every year since it began paying one in 2011, though it has not raised the dividend yet in 2019.
The company currently pays a $0.45 per share quarterly dividend, which equals an 8.9% yield.
Sabra Health Care REIT generates enough cash flow to afford its lofty dividend. However, with cash flow headed lower, the dividend safety isn't as high as it once was.
I don't believe you have to worry yet that the dividend won't get paid. But keep a close eye on AFFO. If it continues to erode, the dividend safety grade will be downgraded further.
Dividend Safety Rating: B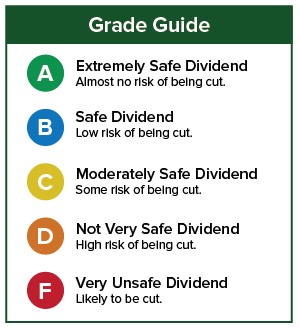 If you have a stock whose dividend safety you'd like me to analyze, leave the ticker symbol in the comments section.
Good investing,
Marc