Enterprise Products Partners (NYSE: EPD) has an impressive distribution-raising track record. The company not only has lifted its payments to investors every year since 1999 but also has increased its distribution every quarter since October 2004.
The current distribution of $0.44 comes out to a 6% yield.
Impressive.
What's even more notable is the company's ability to continue to hike the distribution in the future.
Enterprise Products Partners is a master limited partnership (MLP) that owns pipelines and provides other services to the oil and gas industry. MLPs pay distributions, not dividends.
Cash available for distribution (CAD) is forecast to be $5.94 billion this year. (CAD is a measure of cash flow used by MLPs.) That $5.94 billion figure is actually down a pinch from last year's $5.99 billion, and SafetyNet Pro penalizes companies whose cash flows are projected to decline.
However, the company's payout ratio, or the percentage of cash flow it pays out in distributions, is just 65%. That means the company has plenty of room to increase the distribution even if CAD slips in the future.
That gives me plenty of confidence that the company can continue to pay and likely increase the distribution.
The fact that Enterprise Products Partners has raised the distribution every year for 20 years gets it a bonus point from SafetyNet Pro, canceling out the penalty point for the slightly lowered cash flow forecast for 2019.
With the company's comfortable payout ratio, more than sufficient cash flow and amazing distribution-paying track record, investors in Enterprise Product Partners have nothing to worry about when it comes to the safety of their distributions.
Dividend Safety Rating: A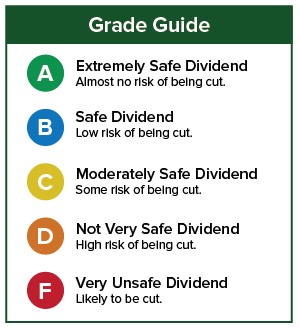 If you have a stock whose dividend safety you'd like me to analyze, leave the ticker symbol in the comments section.
Good investing,
Marc