It's been a tough go of it in the oil patch lately. The price of crude has fallen 29% since the highs last fall. That will make it tougher on oil companies to generate a profit.
But this isn't the first slump in oil prices seen by management teams of most big oil companies. They've managed their businesses through booms and busts before.
As a result of effective management, even when oil prices fell, Chevron (NYSE: CVX) has raised its dividend for 32 years in a row. In fact, Chevron is a member of the esteemed Dividend Aristocrats – companies in the S&P 500 that have raised their dividends every year for 25 years.
That's the kind of history SafetyNet Pro likes to see.
So it has a heck of a track record – but can Chevron afford to raise its dividend for a 33rd straight year?
A Blip or a Trend?
Free cash flow was negative in 2016. It climbed into positive territory in 2017 and soared in 2018. This year, free cash flow is forecast to dip a bit before rebounding sharply in 2020.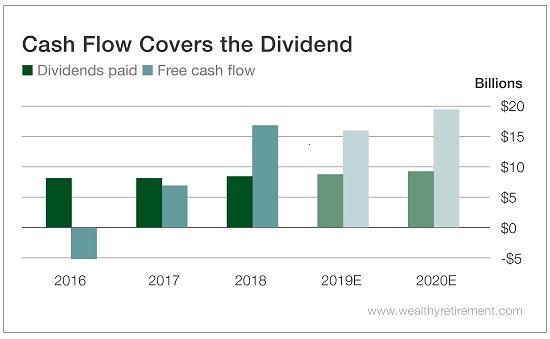 You can see that even with this year's expected decline in free cash flow, the amount easily covers the dividend.
If analysts' prediction of $15.8 billion in free cash flow is accurate, the company's payout ratio will still be a very comfortable 57%. The payout ratio is expected to fall all the way to 48% in 2020.
The company's long dividend-raising track record, along with a low payout ratio (even in a year when free cash flow is projected to decline), makes for a very safe dividend.
In fact, of the 37 energy stocks rated by SafetyNet Pro, Chevron is one of only four with the highest rating.
Dividend Safety Rating: A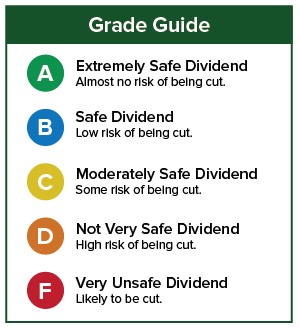 If you'd like me to analyze the dividend safety rating of one of your stocks, leave the ticker symbol in the comments. You can also enter the name of the company in the search box on the upper right part of the page to see if I've written about your company recently.
Good investing,
Marc