Last September, I looked at Annaly Capital Management (NYSE: NLY), one of the most requested stocks in the Safety Net column.
At the time, Annaly received an "F" grade for dividend safety, but I mentioned that things looked like they might be on the upswing. I said that if Annaly was able to grow net interest income (NII), the stock could receive an upgrade in the future.
Mortgage real estate investment trusts (REITs) like Annaly borrow money at short-term rates and lend it out at long-term rates. The money they make is called net interest income.
Income investors have a love-hate relationship with Annaly. The stock entices investors with its double-digit yield, which is currently at 10.5%. But like the kid in school who is too bored to come to class, Annaly is a serial cutter.
The company has lowered its dividend nine times in the last nine years.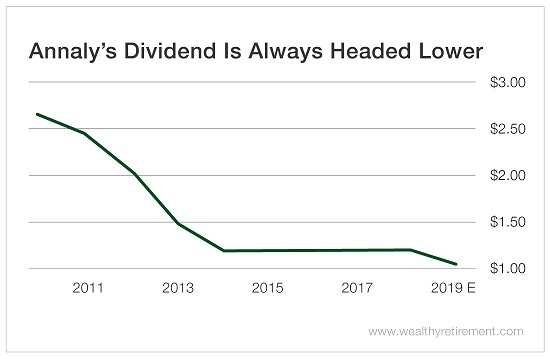 Over the past four quarters, Annaly generated $1.14 billion in net interest income – but during that time, it paid out about $1.52 billion in dividends. You can see that it wasn't able to afford what it was paying out.
SafetyNet Pro sees that as a red flag…
In early May, management once again lowered the quarterly dividend, this time to $0.25 per share. But even at the lowered rate, because of the increasing number of shares (mortgage REITs often raise capital by selling shares), the company will likely pay $1.4 billion in dividends over the next 12 months.
Unless Annaly Capital Management figures out a way to boost NII 23% this year, it won't be able to afford its dividend again.
With interest rates low and the spread between short- and long-term rates narrow, that will be very difficult to achieve. Mortgage REITs make more money when the spread between the two rates is wide.
Annaly was not able to grow NII in 2018. It looks likely that the number will be lower again in 2019, and the company has averaged just about one dividend cut per year over the past decade.
SafetyNet Pro doesn't have a grade below "F," but if it did, Annaly would receive it.
Dividend Safety Rating: F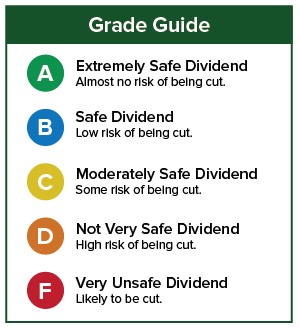 If you have a stock whose dividend safety you'd like me to analyze, leave the ticker symbol in the comments section.
Good investing,
Marc