When it comes to financial services, BGC Partners (Nasdaq: BGCP) does a little bit of everything – trade execution, market data, commercial loan origination and much more.
It pays a strong 6.5% yield based on its most recent quarterly dividend declaration of $0.18 per share.
BGC Partners has a policy of paying out at least 75% of its earnings in the form of dividends. Through the first nine months of the year, the company earned $0.64 per share while paying out $0.54.
However, I always look at free cash flow, not earnings, to determine a company's ability to pay its dividend. That's because earnings have all kinds of noncash items in their calculation. And dividends are paid with cash, not accounts receivable and depreciation.
BGC's free cash flow has been all over the place. Last year, it generated more than $1 billion in free cash flow after a 2016 where it bled gobs of cash. This year, free cash flow is expected to be lower than in 2017.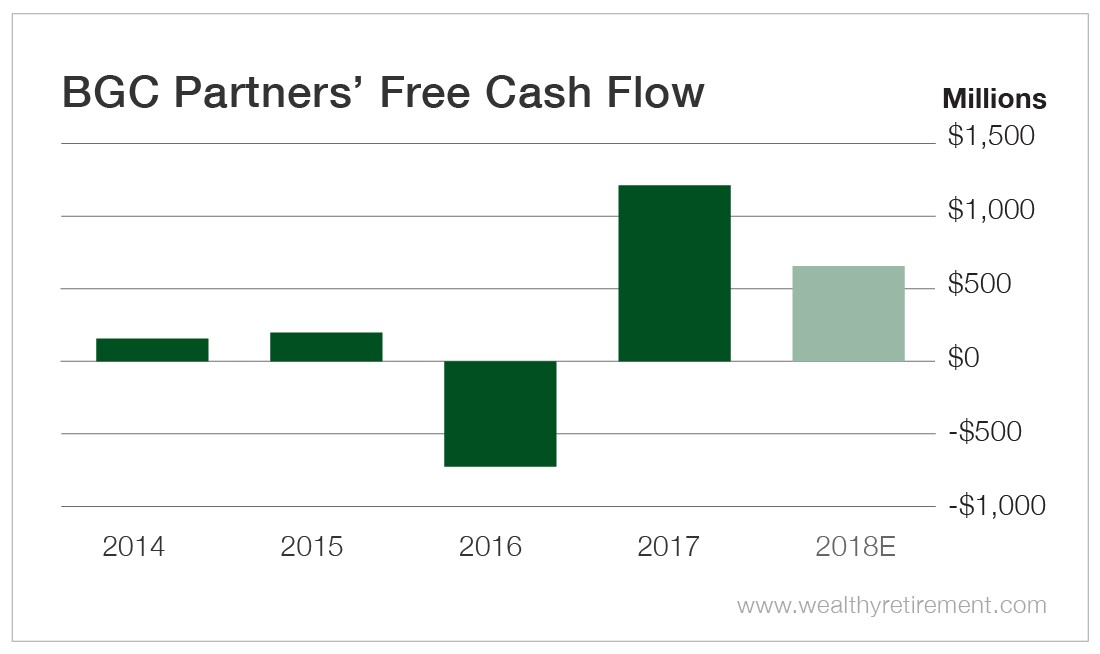 SafetyNet Pro issues a penalty for declining free cash flow, which will be the case this year – even when free cash flow still covers the dividend, which it easily will. BGC Partners will likely pay $211 million in dividends this year.
However, BGC has an unusual situation – one that will likely result in a dividend cut.
BGC Partners is spinning off its real estate business Newmark Group (Nasdaq: NMRK), which had an IPO in December. The spinoff is expected to be complete by the end of the year.
As of the end of the third quarter, BGC Partners' post-spinoff business would have generated a dividend of $0.14 per share.
Newmark also pays a dividend of $0.09. BGC's shareholders will receive shares of Newmark once the spinoff occurs, though the exact amount has not yet been determined. So shareholders who elect to keep shares of Newmark will receive dividends on both stocks.
The company expects earnings to grow at least 29.5% next year. Remember, even though I base the dividend safety grade on free cash flow, BGC's management uses earnings to determine the amount of the dividend.
If it keeps the payout ratio on earnings the same (about 84%), the dividend would remain $0.18 (assuming it hits its 29.5% growth rate).
Though that's hardly guaranteed. Management could lower the payout ratio to its minimum threshold of 75%, or it could fail to reach its growth rate.
Additionally, BGC Partners cut its dividend once before. In 2012, the quarterly dividend fell to $0.12 from $0.17. Once a company "breaks the seal" and cuts the dividend, it is more likely to do so again.
BGC Partners is "a complicated piece of merchandise," as my analyst Kristin calls it. There are a lot of moving parts when looking at the dividend.
The dividend isn't in dire jeopardy, but a lot of things will have to go right post-spinoff for the dividend to remain intact.
Dividend Safety Rating: C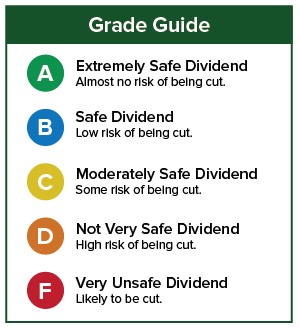 If you have a stock whose dividend safety you'd like me to look at, leave the ticker symbol in the comments section.
Good investing,
Marc