Annaly Capital Management's (NYSE: NLY) 11.7% yield and the fact that it is a current recommendation in The Oxford Income Letter make it an often requested stock for the Safety Net column.
I last reviewed it in January, saying that while Annaly received an "F" rating for dividend safety, its prospects were improving.
Let's see if that's still true.
Annaly gets penalized for eight dividend cuts between 2011 and 2013. SafetyNet Pro is not fond of dividend cuts.
Since the last reduction in December 2013, Annaly's dividend has been stable.
Another problem area is net interest income (NII).
Mortgage real estate investment trusts make money by borrowing funds short term at lower interest rates and lending them out long term at higher rates. The difference between the two interest rates (after subtracting expenses) is NII.
Annaly's NII fell last year and dropped 30% over the past three years.
In the January column, I said that Annaly's prospects were looking better. At the time, Annaly was forecast to generate $1.27 billion in NII in 2018, which was expected to be an improvement over the projected $1.08 billion in 2017. Annaly had not yet reported fourth quarter results at the time the article was published.
It turned out that Annaly's NII was much stronger in 2017 than anticipated. It generated $1.48 billion in NII, covering the $1.35 billion in dividends.
Due in part to an acquisition, Annaly's NII should be at least $1.7 billion this year, which would safely cover the expected $1.55 billion in dividends that is expected to be paid.
Through the first two quarters of the year, Annaly has generated $846 million in NII – on pace for the $1.7 billion target.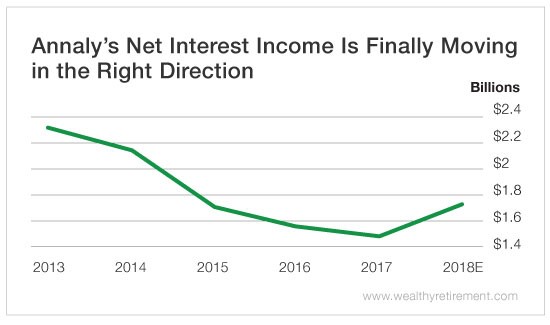 The fact that Annaly generates enough NII to pay the dividend is positive. And if its NII rises in 2018 as expected, we could see an upgrade to the stock's dividend safety rating next year.
Those two reasons are why I'm comfortable recommending Annaly Capital Management in The Oxford Income Letter's Retirement Catch-Up/High Yield Portfolio, which is for investors who can handle higher risk in exchange for higher yields.
But make no mistake about it. This 11.7% yield cannot be considered rock-solid yet. The company needs to grow its NII for several years and shake off the stench of the dividend cuts from five years ago by keeping the payout stable for a while longer.
Until then, the stock still receives the lowest rating.
Dividend Safety Rating: F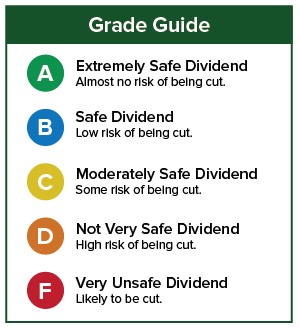 If you have a stock whose dividend safety you'd like me to analyze, leave the ticker symbol in the comments section.
Good investing,
Marc