Ah, December… It's the most wonderful time of the year.
If you're not careful, it can also easily be the most expensive.
It doesn't matter what holidays you're celebrating. 'Tis the season for budgets to be blown. That means many Americans will have to pay off that overspending in the new year.
Cutting corners and going without is never fun. Paying off holiday budget busters is especially painful for retirees and others on fixed incomes.
But with a little festive planning, it's easy to keep your expenses in check so that this month's celebrations don't have to derail your fun in 2019.
Your first step to keeping your celebratory spending in check is to identify your biggest holiday offenders – err, I mean expenses.
More than 46% of respondents to last week's Wealthy Retirement survey found that gifts for others constitute their largest holiday expense.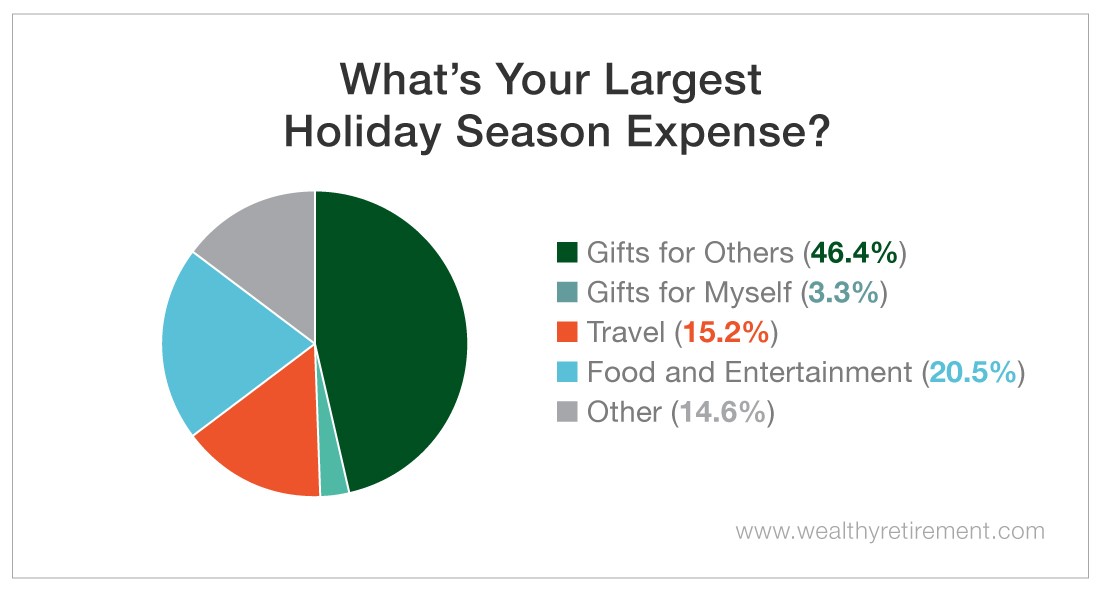 The results aren't surprising. Most parents and grandparents I know love showering their kids and grandkids with gifts this time of year. That's great… as long as you spend no more than you can afford.
Easier said than done, I know – but it's doable, I promise. All it takes is one small step before you start shopping.
To avoid blowing your budget for the rest of the year, set a spending cap on gifts for each person on your "nice list." It should be no more than you can afford.
The next step is just as important: stick to your plan. If you want to spend more, start setting aside money in a holiday fund earlier in the year.
Once you've reached your limit, that's it. Don't buy any more gifts.
Trust me, that special child in your life can live without this year's hottest toy, Poopsie Surprise Unicorn. Don't worry, I don't get it either. Glitter-infused rainbow unicorn dung isn't my idea of fun.
Other holiday expenses can add up fast too. More than 20% of readers said that food and entertainment make up their largest seasonal expense.
In my opinion, that's the sneakiest budget buster.
All of those trips to the grocery store for holiday goodies can really add up before you know what happened. The extra sugar and spice you need to bake up those sweets and treats can cost tens or even hundreds of dollars more than your normal grocery bill.
You'll want to tackle this holiday offender the same way you dealt with gifts: by planning ahead. Before you head to the grocery store, set a budget for celebratory nibbles. Figure out what you can afford to spend above your usual food budget.
Next, start shopping early. Many grocery stores heavily discount baking supplies and traditional foods going into the holidays. Taking advantage of sales will help you stay on budget and get the most bang for your holiday bucks.
Speaking of budgets, 40% of our readers said they wouldn't spend any more than usual. That's a surprising finding, but it may mean that many Wealthy Retirement readers are already applying our holiday budgeting tips by planning and paying for their holiday celebrations in advance.
Another 40% said they'd spend up to $1,000 more than in a typical month, about 14% said they'd spend up to $5,000 above their normal monthly expenses and 5% said the holidays would cost them an extra $5,000 or more.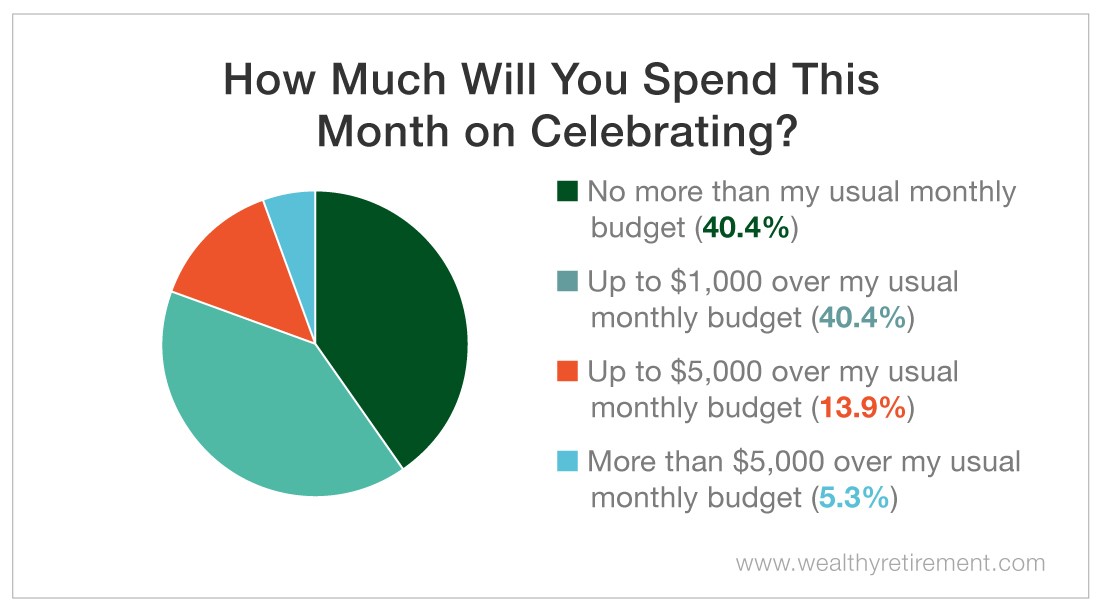 So how are our readers paying for the added expense of holiday cheer? Some of them will likely dip into their savings, while others will spend the next several years paying it off. Either way, that money could've been invested toward retirement.
Last December, Americans accumulated an average of $1,054 of debt, according to a survey in late 2017. That number will likely rise again in 2018. This year, spending on holiday gifts, travel and entertainment will average $1,250 per person, according to a recent survey. That's a 5% increase over last year. I'm expecting holiday debt will rise too.
As I said before, it's better to give than receive… especially if you're on the receiving end of a credit card bill. You don't have to go into debt to show your family how much you love them.
Good investing,
Kristin