Last weekend in Wealthy Retirement's home city of Baltimore, we celebrated the 144th Preakness Stakes – second of the three horse races that make up the Triple Crown of Thoroughbred Racing.
The sheer power, aggression and endurance of these magnificent horses (not to mention charismatic names like War of Will and Win Win Win) produce crowd favorites and big winners at the track.
Oddly, however, the traits we associate with these stallions may not always translate well to executive leadership.
American stereotypes of strong leadership, particularly in business, often emphasize characteristics associated with the stallion, not the mare or the filly.
We trumpet fast-moving, unapologetic and ruthlessly competitive qualities – all of which are typically associated with masculinity.
However, according to Wealthy Retirement readers, these qualities – when taken to the extreme – may be better suited to the racetrack than the boardroom.
This week, we polled readers to discover which qualities they hope to see in the management of a company they're considering investing in.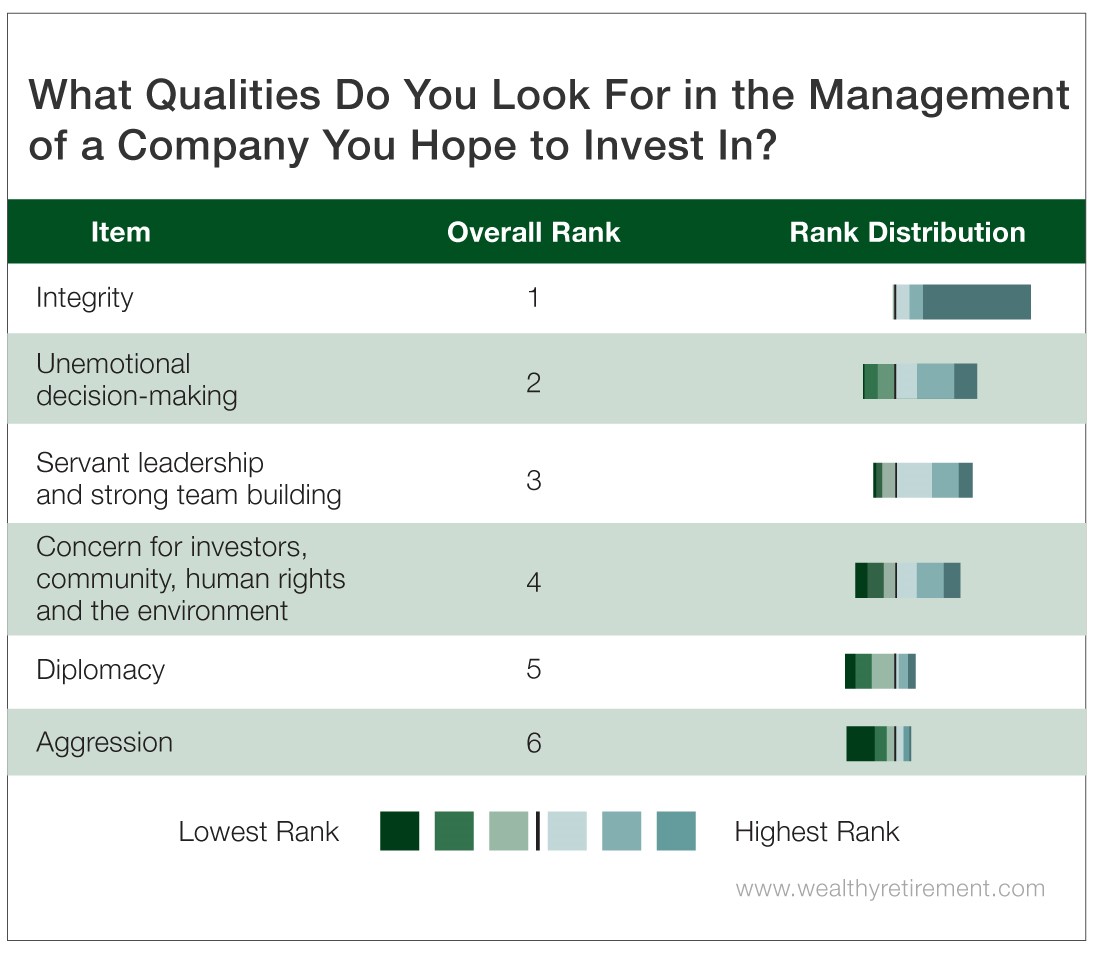 Our readers ranked integrity as the most important quality in the management of a company. Aggression was at the back of the pack.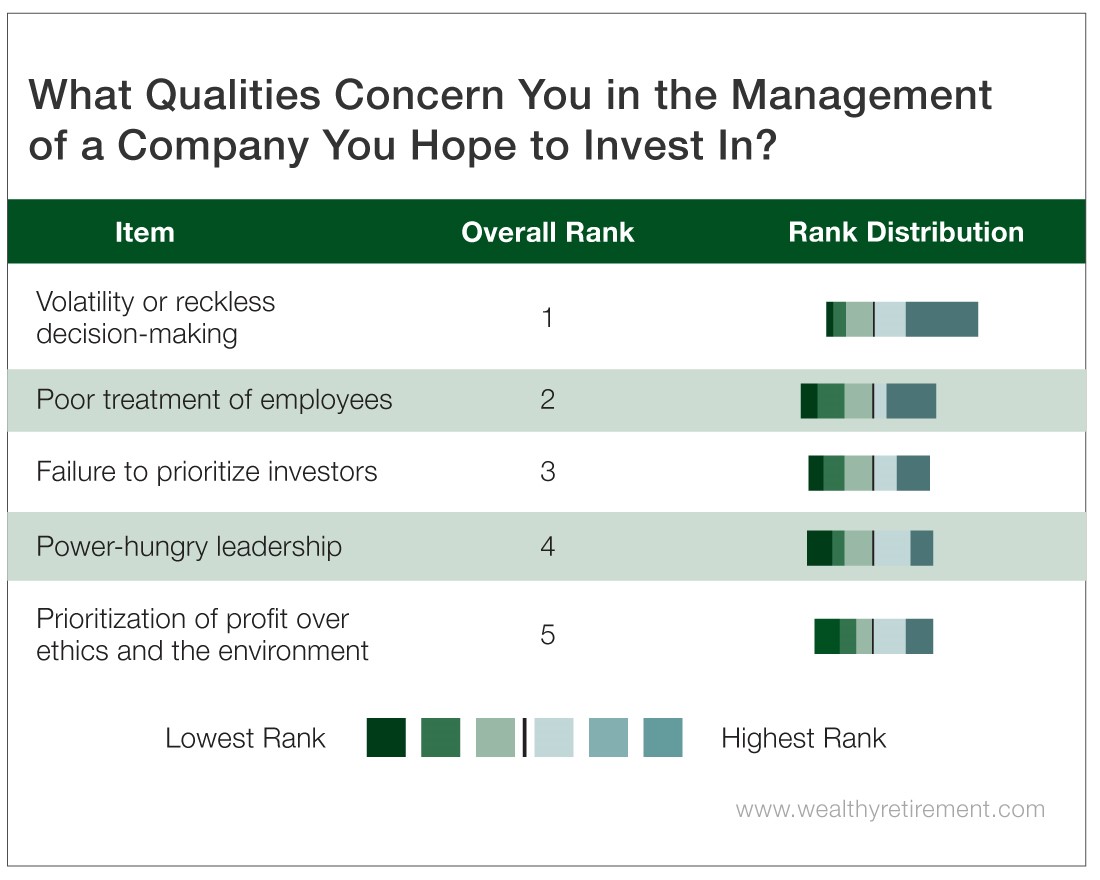 Readers were also particularly concerned about reckless decision-making, and they valued servant leadership, team building and diplomacy over volatility and aggression.
Stereotypical racehorse characteristics aren't what investors want to see on the management team.
In fact, those traits might not create leadership in the pasture either. According to typical equestrian behavior, a stallion may get the glory, but the herd follows a mature mare.
In business management (and in our poll), it's the stereotypically female characteristic of compassion – through strong servant leadership and ethical treatment of investors and employees – that people value most.
A Winning Track Record
According to the Greater Good Science Center at the University of California Berkeley, "The prevailing message to women in Western society is that if you want to succeed, act more like men. There is an assumption that success means being more aggressive… Getting ahead often means doing whatever it takes, even if you're acting unethically."
However, successful female CEOs often do just the opposite: They embrace qualities more traditionally associated with their own sex, including team building and empathy.
This may be one reason why female executives represented a larger proportion of CEOs who won 2019 Most Ethical Companies honors than they represented total CEOs of companies on the S&P.
Laureates include well-known leaders Ginni Rometty of IBM and Jo Ann Jenkins of AARP, but there's no better example of how ethical leadership pays off than Mary Dillon, CEO of Ulta Beauty and No. 45 on Fortune's Most Powerful Women list.
Dillon has been described as someone who "uses her empathy to understand [customers'] hearts and what motivates them." She spent her first Christmas Eve at the company working a sales shift to get the perspective of her employees and customers.
That kind of empathy and emotional willpower has paid off: Dillon has grown Ulta Beauty to capture 3% of the massive beauty market.
But empathetic and ethical behavior isn't profitable for just female executives – for example, both Jeff Weiner, CEO of LinkedIn, and Jack Ma, co-founder of Chinese shipping giant Alibaba, prioritize compassion in their leadership.
Weiner, who in his previous role at Yahoo had been described as "harsh," shifted his stance after joining LinkedIn. He now prioritizes an executive leadership style that is mindful of others' needs, and he has partnered with The Compassion Project to advocate for mindfulness training in public schools.
Jack Ma, similarly, holds Alibaba to the standard of a "love quotient model," which measures success not by a company's revenue, but by how many problems it has solved for its consumers and what it has contributed to the world.
However, when we see that Alibaba recorded explosive growth in its last earnings report and LinkedIn has grown its business by 1,000%, it's clear that profit accompanies compassion even when it's not the standard of success.
Company leadership is something we as investors always need to be mindful of. Challenging stereotypes about leadership will ultimately lead to stronger management and a bigger windfall for your portfolio.
Next time you consider investing in a company, dig into the qualities of the CEO and management team. Regardless of sex, if you're seeing a track record of impulsive and unethical behavior instead of integrity and team building, place your bet on another pony.
Good investing,
Mable