I love owning shares of companies that are run by CEOs who are the founders of the businesses.
I refer to these CEOs as "owner-entrepreneurs."
As often as possible, I want to align my financial interests with those who have an entrepreneurial spirit, a huge financial stake and enormous personal pride in the businesses they run.
After almost three decades in business, I've seen both sides of the coin firsthand.
I've worked at large institutions run by professional CEOs with little or no long-term ownership interest in the business.
They were nice folks, but they don't hold a candle to owner-entrepreneurs.
They weren't deeply invested financially or personally.
These professional managers just came to work for a paycheck and then went home.
If a competitor down the street offered them a slightly larger salary, they would leave tomorrow and take that new job.
The reality is that paid employees are motivated to do just as much as they have to do in order to collect that salary.
A study from the United Kingdom found that the average employee put in just two hours and 23 minutes of productive time each day.
That means the average employee spends more time chatting, getting coffee and staring at the wall than they spend working in a day.
From what I've seen working inside employee-run institutions, even that figure might be overstated…
That's okay. We all get to live life how we want to.
On the other hand, I've also worked for (and am myself) an entrepreneur who benefits directly from the profitability of a business.
From my experience, I can tell you there's no comparison between an entrepreneur and a career employee. Personally, I haven't taken a full week off in more than a decade. I don't want to. I don't wake up Monday morning and drag myself to work. I love what I do.
To the entrepreneurs who I've had the pleasure of working for, there really isn't much of a difference between Saturday and Monday.
Entrepreneurs are never completely "off."
That's why entrepreneurs accomplish incredible things – exponentially more than the average paid employee.
The Results Are Conclusive…
It's no mystery why entrepreneurs accomplish so much more.
It is all about incentivization – having skin in the game.
Billionaire investor Charlie Munger, the partner of Warren Buffett (a legendary owner-entrepreneur if there ever was one), is fond of saying, "Show me the incentive, and I will show you the outcome."
Owner-entrepreneurs are heavily incentivized to drive the profitability of a business because they share in those profits. As founders, they also have their entire egos attached to their businesses.
Employees with fixed salaries and small performance bonuses are much less incentivized to make a business succeed. They're incentivized only to do enough to get paid.
Superior returns can be achieved by investing alongside owner-entrepreneurs.
One study compared the 25-year stock market performance of founder-led publicly traded companies with the performance of the rest of the S&P 500 from 1990 to 2014.
The study found that S&P 500 companies in which the founders were deeply involved performed 3.1 times better than the rest.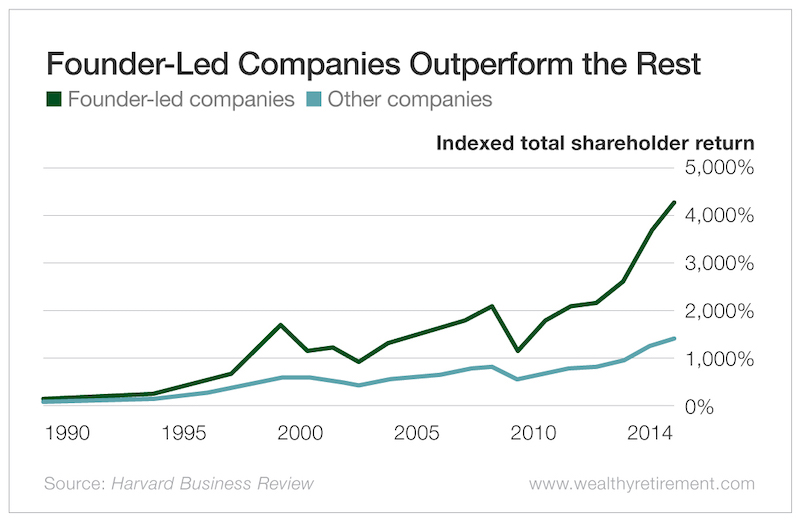 That is massive outperformance by the owner-entrepreneur-led companies.
Owner-entrepreneur CEOs are more successful for so many reasons…
They take a long-term view of their companies, while professional CEOs are more focused on the short term, trying to maximize this year's bonus.
Owner-entrepreneurs avoid taking on excessive debt and risk because that would endanger their large ownership stakes.
They keep a tight lid on costs and a sharp eye on employee performance. An owner-entrepreneur is far less likely to permit a bloated cost structure or carry deadweight employees for years.
Owner-entrepreneurs even take less salary. On average, they take 32% less compensation than the average for all S&P 500 CEOs.
Over the years, I've built a database of owner-entrepreneur-led, publicly traded companies.
In the coming weeks, I'll introduce you to one of my favorites…
It's a company whose stock price has vastly outperformed the stock market for years – and I expect it will continue to outperform for years to come.
Good investing,
Jody