At the end of May, I wrote to you about AMC Entertainment Holdings (NYSE: AMC), the largest movie theater chain in the world.
While I love going to AMC theaters with my kids, I recommended that you stay far away from this stock.
I hope you did…
From the start of June through mid-August, AMC's share price was cut in half, from $60 to $30.
Last week, AMC had some good operational news.
The Ryan Reynolds film Free Guy generated $28.4 million at the North American box office, beating expectations of approximately half of that.
AMC shares bounced higher on this surprise.
I'm glad that Americans are able to get back to the movies. I also hope that AMC Entertainment has a great year.
But does that mean my bearish view on AMC shares has changed?
Absolutely not…
This is still an overvalued stock and a dangerously overleveraged company.
The Downside of AMC Shares
If a picture is worth a thousand words, then the next four charts are going to give you an earful.
The first chart depicts AMC's balance sheet.
The company's long-term debt has exploded higher.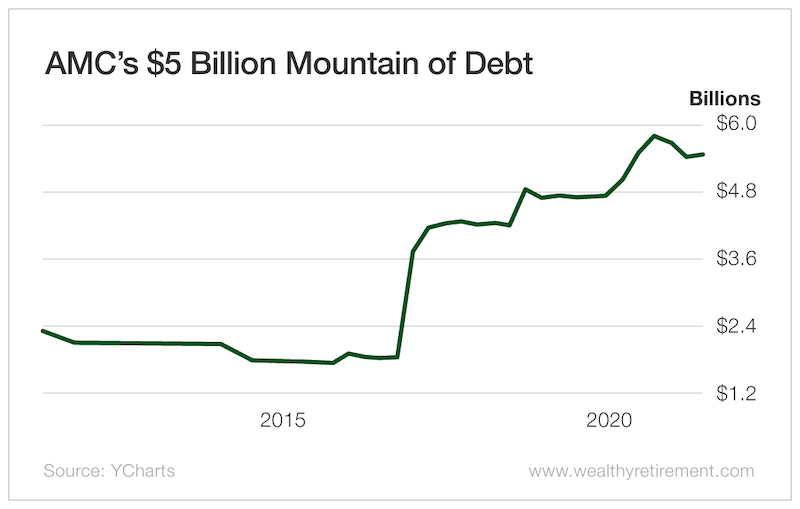 Long-term debt on AMC's balance sheet now exceeds $5 billion.
That is dangerously high for a company that has been struggling against the competition from streaming entertainment options, even before COVID-19 arrived.
A big pile of debt doesn't guarantee disaster.
But to make debt work, you have to have significant earnings and cash flows.
And AMC doesn't have either of those…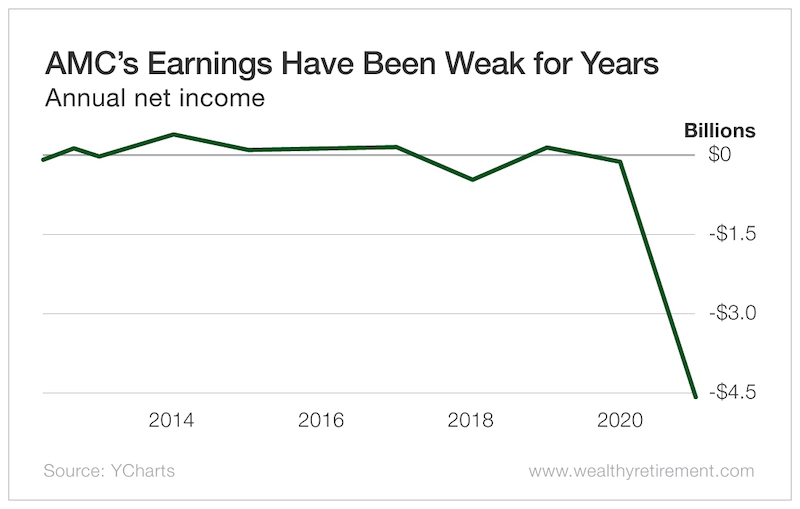 Last year, with its COVID-19 shutdowns, was brutal for AMC. The company lost more than $4.5 billion.
But the four years prior to 2020 were pretty bad too.
From 2016 through 2019, AMC posted a cumulative loss of $414 million.
That is four years without making any money… plus pandemic-related losses on top of that.
If you are going to carry a lot of leverage, you at least need to be profitable!
Yet AMC has managed to survive the past 18 months by issuing new shares whenever possible.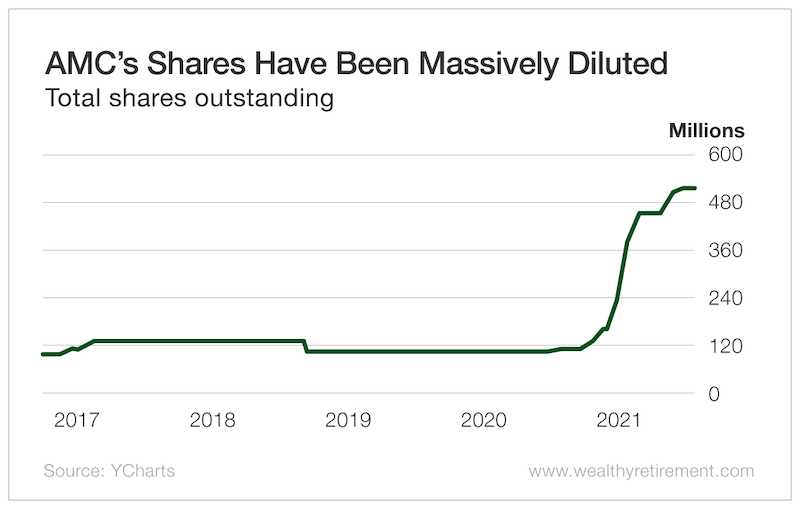 There's nothing wrong with issuing new shares, and it's exactly what the company needed to do given its circumstances.
But that ballooning share count has massively diluted the ownership interest of all common shareholders.
With dilution like this added to terrible earnings, AMC's share price should have dropped precipitously.
But despite skyrocketing debt, massive losses in 2020 and in the years prior to COVID-19, and the exponential increase in the number of shares that AMC has outstanding…
AMC's share price has soared.
As a result, so has the company's market valuation.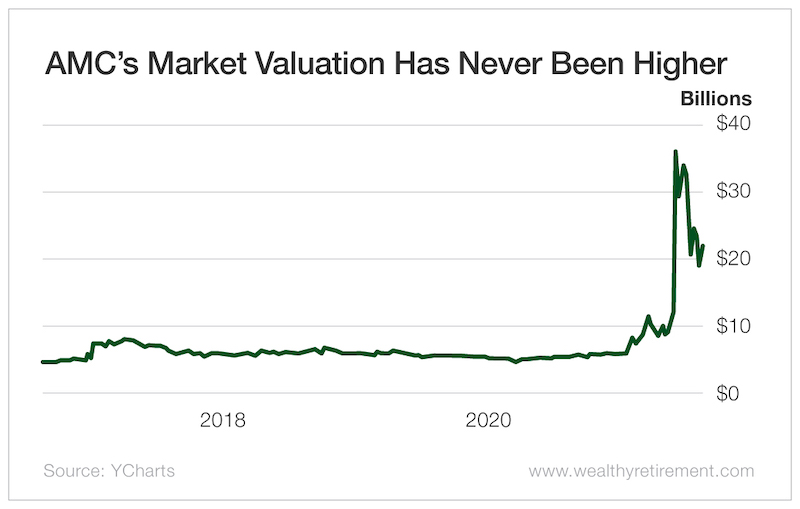 Now trading at more than $40, shares of AMC are higher than they have been in five years.
This combination of a higher share price, share dilution and a ton of debt has pushed the market valuation of this business to absurd levels.
The stock market currently values AMC's business at more than $22 billion.
From 2017 through the start of the COVID-19 pandemic, the average market valuation for AMC was $5 billion.
Now, with a tattered balance sheet, nonexistent earnings, even more streaming competition and COVID-19 still raging, AMC is valued at four times more than it ever has been before. I believe this nonsensical valuation is a result of new stock market participants who don't know anything about fundamental analysis.
These folks are going to get burned.
Debt is up, earnings are terrible and the future is bleak.
There is no upside to AMC shares from here.
The downside, on the other hand, is huge.
Enjoy going back to the theaters… but keep AMC out of your portfolio.
Good investing,
Jody