A while ago, some scam artists tried to rob me. I didn't take the bait, but I know they made plenty of money defrauding other unwitting investors. That infuriates me.
And to make matters worse, it's all perfectly legal.
Let me explain…
One of the most malicious investor rip-offs is the pump-and-dump scheme, when paid promoters "pump" some tiny stock with a "research report" to thousands of unsuspecting people.
They write about how this $1 stock could soon go to $10, then on to $20 and $100. It has some amazing new technology, and it's going to make everyone rich.
As they rush in to buy it, pushing the stock higher, the pumpers are selling.
They use the artificial demand caused by their promotion of the stock to be able to sell their shares at higher prices.
The promoted company is usually a thinly traded stock with a very low price because those are easy to manipulate. If 1,000 people pick up 1,000 shares each, a stock that normally trades 30,000 shares a day is now trading 1 million shares. That stock will go nuts, and the sellers will be able to disguise the sale of their stock among the suddenly active trading.
And they can get away with it as long as they tell you in the fine print that they're doing it.
When I witnessed this scam, I received a report in the mail. It touted a stock in the green energy sector. It gave various reasons why the stock could soar… and lo and behold it did…
Until the pumpers dumped.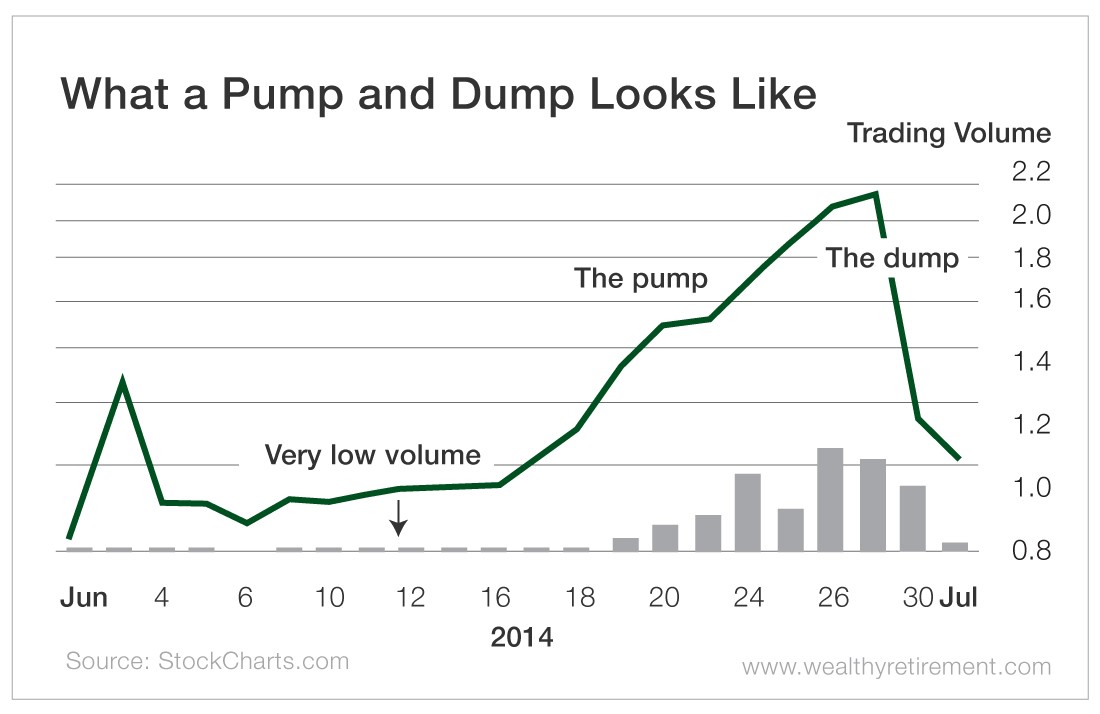 How to Avoid the Pump and Dump
When a company is promoting a low-priced stock with low trading volume, it's a sure sign that it's a pump and dump.
Some investors think they too can benefit from the scam by buying the stock on its way up, then selling before the dump. The problem is that you don't know when the crash will come, and you will likely be caught in the trap.
Here are two other signs of a pump and dump.
If the promoter gives you the stock ticker for free, it's likely a pump and dump.
If you've ever received any advertising from The Oxford Club, you know that we believe we can help investors make money. That's because we've seen the results firsthand.
But you have to subscribe to get our research. A reputable business does not just blast out a stock ticker to thousands of people for free. That only helps someone who plans on selling the stock.
We don't buy or sell stocks at The Oxford Club, and all editors are forbidden from writing about stocks that they own.
The fine print will actually tell you it's a pump and dump.
Sure, there are criminals out there who risk everything to separate you from your money. But most people don't need to do that because they can do it legally as long as they disclose what they are doing.
These days, all stock promoters have to do is include a line somewhere in the flowery "research report" that says they were paid a specific amount to write this report and mail it. They'll usually disclose who paid them, which is often a shell corporation of insiders.
I received one of these reports. It was for the stock in the chart above. The promoters really wanted to make sure they had no legal issues, so they clearly disclosed that they planned on selling the shares into the higher volume and price.
Here is what they said in the disclaimer section of their report, which is about a half-page long in small print. I removed the names of the companies for legal reasons:
"If successful, the Advertisement will increase investor and market awareness, which may result in increased numbers of shareholders owning and trading the common stock of XYZ. ABC Media [the promoter sending out the report] was paid by non-affiliate shareholders who fully intend to sell their shares without notice into this Advertisement/market awareness campaign, including selling into increased volume and share price that may result from this Advertisement/market awareness campaign."
If you ever see that a report was paid for by a company or its shareholders, run – don't walk – away. The stock is going to crater after it is pumped.
These fraudsters won't be spending my money anytime soon. Don't let them get their greedy paws on yours.
Good investing,
Marc