Most people spend their working lives looking forward to retirement.
It's the reward for a lifetime of hard work, saving and sacrifice – so it's funny that people spend a lot of time worrying about what could go wrong.
Don't get me wrong… A LOT can go wrong.
But don't worry – if you have a contingency plan, you can rest easy. You can navigate any retirement roadblock and still enjoy your golden years.
Here's what keeps Wealthy Retirement readers up at night. It's worrisome, but with a few simple strategies, you can preserve your retirement lifestyle no matter what happens.
In a recent survey, readers said their No. 1 retirement worry was outliving their savings. Healthcare costs and paying for a health crisis came in second, and losing a spouse or partner came in third.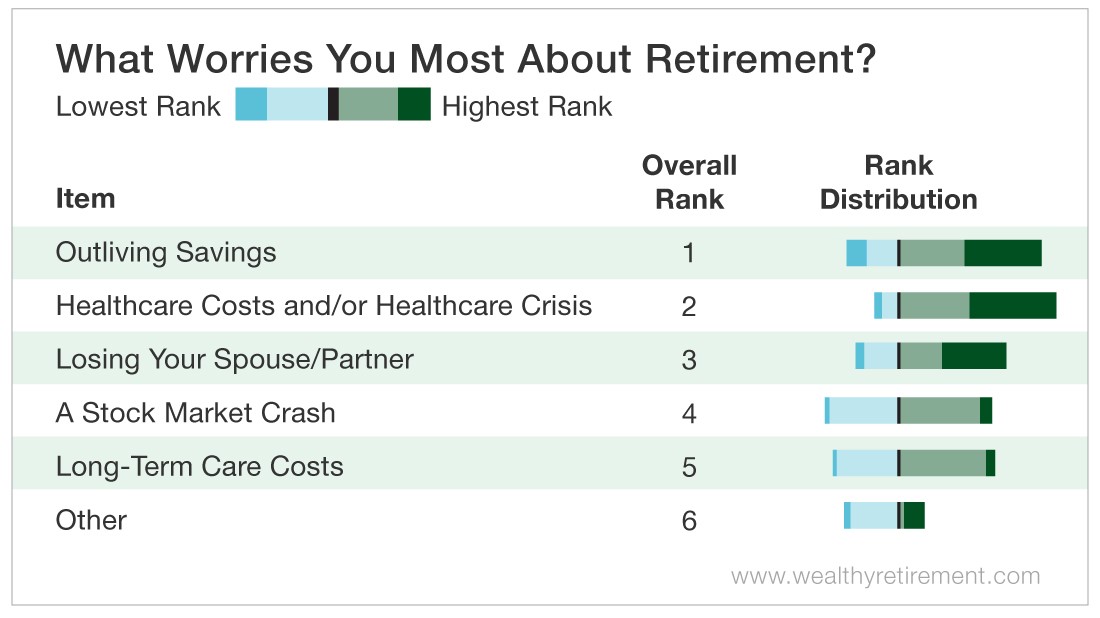 The results aren't surprising. In survey after survey, retirees state that outliving their savings is their top concern.
It makes sense.
The duration of your retirement is a moving target. Will you need enough money to live for 15 years… 20 years… 30 years… or more? It all depends on how long you live – and for the most part, we're living longer.
Speaking of longevity, the longer you live, the more expensive your healthcare will likely be.
It's no wonder that Americans fear outliving their money more than death.
The key to retiring in style is generating more income and savings. Luckily, The Oxford Club's Chief Income Strategist Marc Lichtenfeld knows a thing or two about generating income.
In his book You Don't Have to Drive an Uber in Retirement, Marc lays out practical strategies you can use to increase your retirement income now… without going back to work.
Within 24 hours of launching the book, it hit No. 1 on Amazon's Retirement Planning best-seller list.
It's chock-full of powerful income secrets like how to pocket $100,000 tax-free from the 401(k) you've never heard about and how you can save thousands of dollars on your taxes this year.
Click here to get your copy of You Don't Have to Drive an Uber in Retirement now.
Living longer isn't cheap, but it sure beats the alternative.
Stop worrying about running out of money and start enjoying your retirement journey.
You've earned it!
Good investing,
Kristin