You made it. You've retired!
After years of scrimping and saving, it's time to leave your working years in the rearview mirror. You've finally accumulated enough wealth to enjoy the fruits of your labor.
But saving for retirement doesn't end when you exit your career. It changes. That's when it's time to activate "Retirement Plan B."
Retirement Plan B isn't a backup plan. It's the second half of your retirement journey.
Let me explain…
Your Nest Egg May Not Be Healthy Enough
Nearly everyone I talk to worries about running out of money in retirement. It doesn't matter if they've spent their entire life working and saving for this coveted rite of passage.
It's a valid concern.
Advances in healthcare and medical breakthroughs mean that people are living longer. They need more money to fund those extra years.
Of course, medical breakthroughs don't come cheap. It's not surprising that the cost of healthcare, especially for retirees, keeps going up.
The average couple needs $280,000 to pay for their medical expenses in retirement. That doesn't even include the cost of long-term care, and dental care isn't included either. Ouch!
For many, healthcare is one of their largest retirement expenses.
But I have bad news for retirement planners. That $280,000 may not be enough.
Healthcare costs are rising even higher and even faster than you think.
They've risen a whopping 70% since Fidelity began tracking them in 2002. That type of increase can easily bankrupt your retirement savings.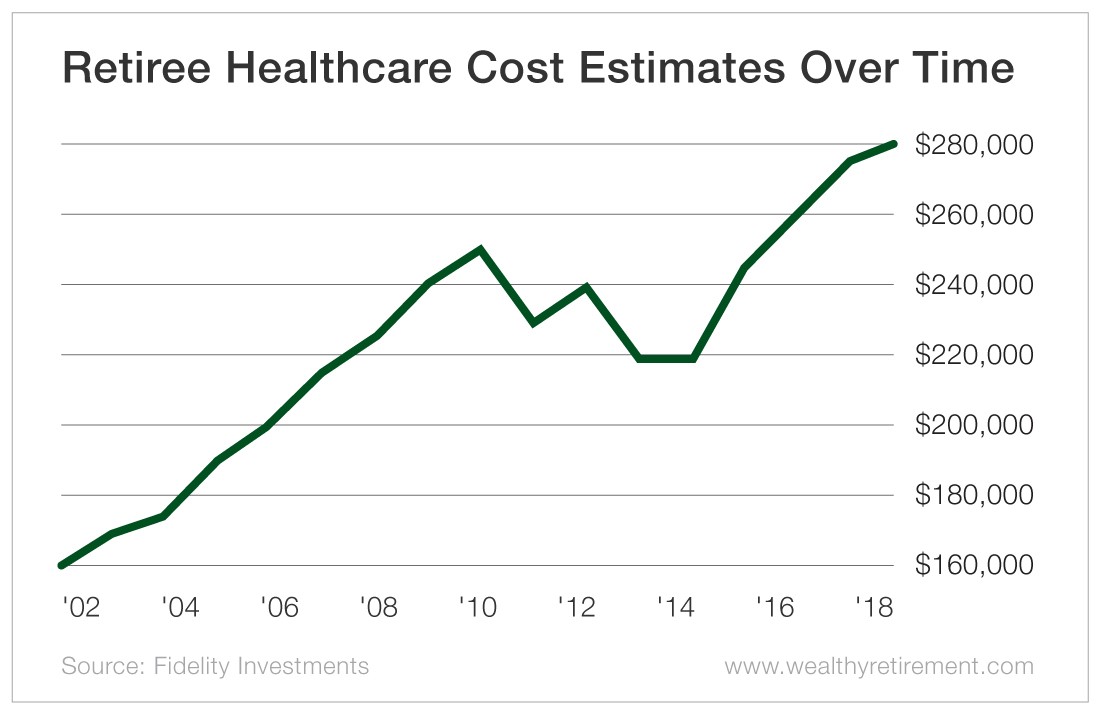 Thankfully, this past year, retirees saw some relief. Healthcare costs rose just 1.8% from $275,000 in 2017. But I wouldn't expect that relief to last.
Healthcare costs leveled off a bit in the last year due to a pause in prescription drug price hikes. I wouldn't rely on that continuing. Your medical bills will likely still go up. Retirement healthcare cost inflation is projected to rise 4.22% a year for the near future.
That's why it's so important for retirees to find ways to reduce their healthcare costs and other bills right now. When it comes to reducing your retirement expenses, every little bit helps.
Finding ways to lower your healthcare and other expenses can dramatically stretch your nest egg.
Retirement planning doesn't stop when you retire. It's a lifetime obligation you have to yourself.
By constantly implementing easy and painless ways to cut your expenses, you'll ensure that your nest egg will last.
Good investing,
Kristin