Editor's Note: Today's Wealthy Retirement comes from Matthew Carr, Chief Trends Strategist of The Oxford Club and Editor of our sister e-letter Profit Trends.
Matthew has a very important message…
– Mable Buchanan, Managing Editor
---
After a historic 2020, cannabis is ticking off even more milestones in 2021.
And we may be in store for the most transformative cannabis environment in decades.
So far this year, Virginia, New York and New Mexico have legalized adult-use cannabis. This brings the total number of states that have greenlit adult-use to 18, with 36 that allow for medical use.
And Mexico legalized cannabis nationwide. The medical market alone is projected to be worth $54.5 million by 2024, which is 1,400% growth in just four years.
This creates a very interesting situation, as Canada and Mexico have both legalized cannabis at the federal level. So the U.S. is the only country in North America yet to do so.
But that could soon change.
Congress has promised to introduce measures to end cannabis prohibition in 2021. And last month, the Secure and Fair Enforcement (SAFE) Banking Act was reintroduced. This would allow the cannabis industry to have access to the financial systems every other industry enjoys.
The bill easily passed the U.S. House of Representatives in 2019. But it was stonewalled in the Senate.
However, the writing is clearly on the wall. Currently, 47 states, four U.S. territories and the District of Columbia – between them representing 97.7% of the U.S. population – have legalized or decriminalized cannabis in one form or another.
I've outlined before that I think we'll see changes in Europe this year regarding cannabis. And I definitely believe a major change is in store for the U.S.
With those enormous opportunities on the horizon, let's take a look at some of the top cannabis companies by revenue and valuation.
The Six Sisters of Cannabis
I like to point out that there are way more cryptocurrencies than there are publicly traded cannabis companies.
This highlights how nascent the industry still is. And in all likelihood, as merger and acquisition activity picks up speed once again, the number of publicly traded cannabis companies will dwindle.
Now, the Canadian licensed producers (LPs) – Aphria (Nasdaq: APHA), Aurora Cannabis (NYSE: ACB), Canopy Growth Corp. (Nasdaq: CGC), Cronos Group (Nasdaq: CRON), Tilray (Nasdaq: TLRY) and others – are often the most familiar to investors. That's because these companies are able to trade on major U.S. exchanges (the New York Stock Exchange and the Nasdaq) since cannabis is legal at the federal level in their home country.
This is also why they don't operate in the U.S. – doing so would preclude them from being listed on these major exchanges. They're not violating any listing regulations by participating in illegal activities as long as their operations are confined to Canada.
But I've pointed out for years that these Canadian LPs aren't the biggest moneymakers in the industry… at least, not yet.
In fact, when we rank cannabis companies by quarterly revenue, we notice two things right off the bat.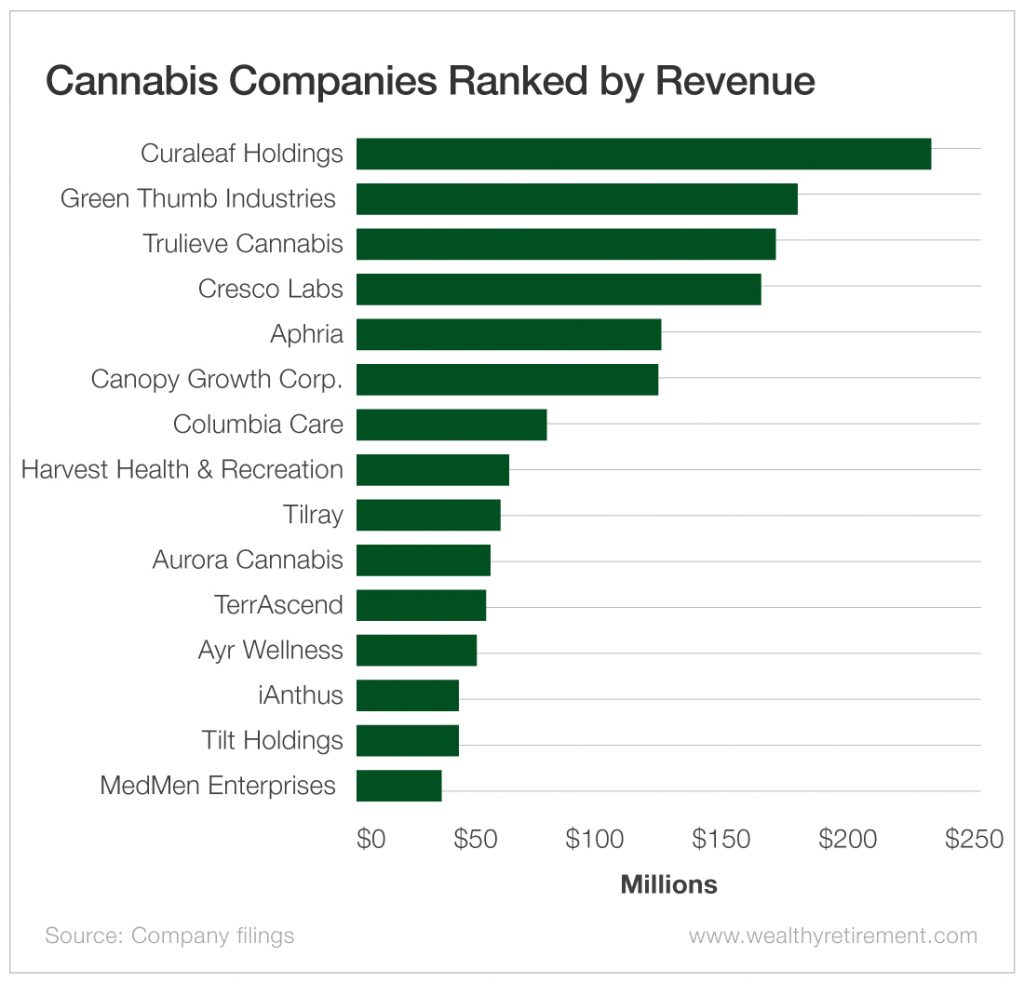 First, Aphria is the only Canadian LP in the top five companies in terms of quarterly revenue. Canopy is right behind it, though.
The top four spots go to Curaleaf Holdings (OTC: CURLF), Green Thumb Industries (OTC: GTBIF), Trulieve Cannabis (OTC: TCNNF) and Cresco Labs (OTC: CRLBF). Each of these American multistate operators (MSOs) is reporting more than $160 million in revenue per quarter.
And of the top 10 cannabis companies by quarterly revenue, only three are Canadian LPs – Canopy, Aphria and Aurora.
The club of companies with $100 million-plus in quarterly revenue is quite small.
I consider these the "cannabis majors" – similar to what we have in the crude oil industry.
For now, I think that after those top six, we're going to see companies establish regional dominance.
Let's be realistic… Not every MSO can be a Curaleaf, Cresco, Green Thumb or Trulieve. And not every Canadian LP can be a Canopy or an Aphria-Tilray.
That doesn't mean they can't be profitable or be good investments, though.
Fortunately, the U.S. market is large enough to support multiple majors as well as many smaller regional players (which will be gobbled up over time, in my opinion).
And on the international stage, there will be a race for these six majors to divvy up markets. Here, the Canadian LPs currently have an early, first-mover advantage. However, Curaleaf recently made a big splash in Europe (anticipating a change at the federal level).
Are Cannabis Shares Too Expensive?
Now let's address a question I'm asked quite often: What's overvalued in the cannabis space?
In young, rapidly growing markets – like cannabis – investors tend to pay a nice premium for shares. The focus is on future growth, not current revenue.
With that in mind, when we look at the cannabis companies listed above and their current price-to-sales (P/S) ratios, we again see an interesting trend.
Canopy has the highest P/S ratio by a wide margin… though it is far below the 100-plus P/S ratios we saw for shares in 2018.
But many companies, from Columbia Care (OTC: CCHWF) to Green Thumb, trade in roughly the same range.
Aphria is the midpoint.
And there is some value, not only in majors like Cresco, but also in MSOs like Ayr Wellness (OTC: AYRWF), Harvest Health & Recreation (OTC: HRVSF) and even MedMen Enterprises (OTC: MMNFF).
The U.S. cannabis industry is likely to see a major change this year. And we can already see changes taking place around the world. Revenue is surging for the sector – particularly in American MSOs.
But there's upside here, as we're not seeing the manic, sky-high valuations we saw in 2017 and 2018. There are bargains to be had.
That makes cannabis a sector to be embraced.
Here's to high returns,
Matthew