Which do you put more faith in – three straight years of dividend increases in 2017, 2018 and 2019 or dividend cuts in each of the six years prior?
That's the situation with Invesco Mortgage Capital (NYSE: IVR), which pays a hefty 11.1% yield after a quarterly dividend increase to $0.50 per share at the end of 2019.
If the company maintains the dividend this year, 2020 will be the fourth year in a row it has paid a higher dividend than the year before. But can it afford to?
Invesco Mortgage Capital is a mortgage real estate investment trust (REIT). It invests in mortgage-related securities.
Mortgage REITs borrow money at low rates in the short term and lend it out at higher rates over the long term. The difference between what it pays to borrow the capital and what it makes by lending it is called net interest income (NII).
The calculation for NII also subtracts expenses.
So if a mortgage REIT collected $10 million in interest from loans, paid out $5 million in interest on its own loans and had $1 million in expenses, NII would be $4 million ($10 million – $5 million – $1 million = $4 million).
Invesco Mortgage Capital's NII has been rising over the past couple of years, climbing from $304 million in 2018 to $313 million last year. It is expected to rise to $340 million in 2020. However, that is still below the $349 million it boasted in 2017.
Last year, the mortgage REIT easily afforded its $254 million in dividend payments to shareholders. And this year, assuming it makes $340 million in NII as predicted, it should also cover the $318 million dividend payment forecast.
The stock is an interesting situation when you view it from the perspective of my proprietary system SafetyNet Pro.
Invesco can afford its dividend at the moment, NII has been rising for the past two years and the company has lifted its dividend each year since 2018.
However, SafetyNet Pro has a long memory and holds a grudge…
The six cuts in a row beginning in 2010 do not sit well, even now. Like a spouse who has been lied to, it will take a while for investors to forgive Invesco. A few years of good behavior doesn't mean all is forgotten.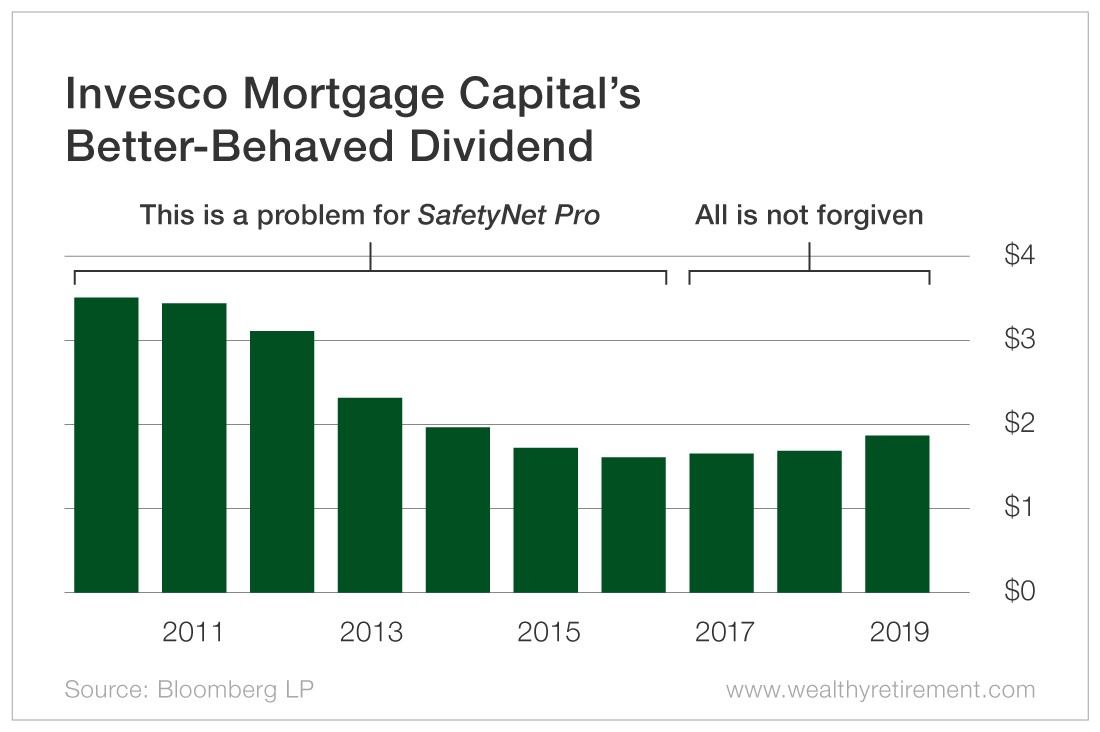 Another aspect that makes this situation noteworthy is that CEO John Anzalone took over the top spot in 2017 – precisely when the dividend stopped falling and reversed course to move higher.
So while the company's dividend track record is not strong, the CEO's, while short, is solid.
But as I mentioned, it takes a long time to earn back SafetyNet Pro's trust. Due to the six dividend cuts in the past, you have to believe another one could be coming in the future if NII doesn't cover the payout to shareholders.
Dividend Safety Rating: F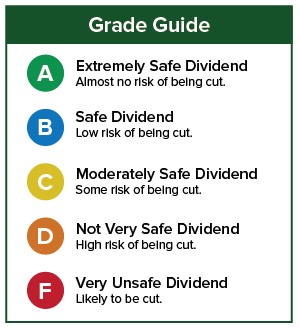 If you have a stock whose dividend safety rating you'd like to see analyzed in the Safety Net column, leave the ticker symbol in the comments section.
Good investing,
Marc