There are several real estate investment trusts (REITs) that focus on the healthcare sector. Most own real estate that is leased to operators of nursing homes and other senior living facilities.
Medical Properties Trust (NYSE: MPW) is the only REIT that leases property exclusively to hospitals, surgery centers and other facilities that perform medical procedures.
It owns properties in the U.S., U.K., Italy, Spain and Germany. Facilities include…
Roxborough Memorial Hospital in Philadelphia
Nine UCHealth emergency rooms in Colorado
Circle Birmingham Hospital in Birmingham, England.
Medical Properties Trust pays a $0.25-per-share quarterly dividend. That comes out to a respectable 5.5% yield. Will the company's cash flow enable shareholders to continue collecting that dividend quarter after quarter? Let's take a look.
REITs use a measure of cash flow called funds from operations (FFO). Medical Properties Trust's FFO has grown significantly over the past several years, and it is expected to continue to climb.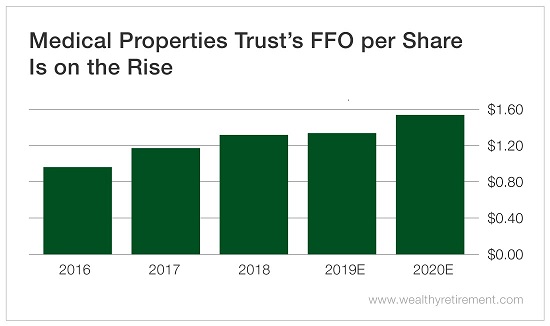 Last year, the company generated $1.32 in FFO per share while paying out $1 per share in dividends. So you can see that the company easily covered its dividend. This year, that figure is forecast to climb just a little to $1.34 and then accelerate to $1.54 in 2020, giving it even more breathing room to afford and raise its dividend.
Medical Properties Trust has done a good job raising the dividend each year since 2013. It has not raised the dividend in 2019 yet, but I wouldn't be surprised to see a slight bump higher in the next few months and then a meaningful increase in 2020 if FFO rises like analysts expect.
The company did cut the dividend in 2008 and 2009, going from $1.08 to $1.01 and then to $0.80. So even though it has raised the dividend many times since then, the company still has not fully recovered.
Medical Properties Trust generates plenty of cash flow and should easily cover the dividend in the coming years.
Dividend Safety Rating: B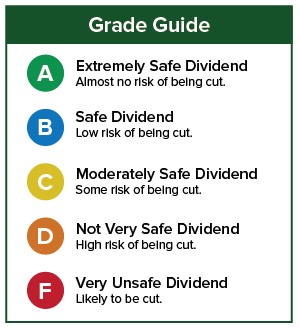 If you have a stock whose dividend safety you'd like me to analyze, leave the ticker symbol in the comments section.
Good investing,
Marc