Two weeks ago, I talked about strategies to sell your home in this buoyant real estate market.
This market is still controlled by realtors, who ring up the register again and again with outrageous commissions based on an archaic law that allows them to monopolize the market for home listings.
But you should know that realtors are only half the battle…
While realtors may be exorbitant in their commission structure, there are worse alternatives out there that are pitching themselves as bargains.
There are a slew of companies that offer the allure of pure convenience and a "great" price – but it never really works that way.
Think about your neighborhood 7-Eleven. It offers great convenience, but at what price? I have never found that 7-Eleven is less expensive than a full-blown grocery store. Have you?
If it's convenience you want, the price is always going to be higher.
It's no different in the real estate market. Right now, two companies (Opendoor and Offerpad) are grabbing all the headlines. They're called "iBuyers." (Yes, we're in the "i" generation for everything.)
They offer a quick solution: Give them your address, and they'll make you an offer for your home. Accept, and the check is on the way. Closing is a breeze. Wow! What a great concept?!
Yes, they'll charge you a commission as well, but you don't have to list your home or clean it up to show to people. Just sign on the dotted line, and you're dancing to the bank, check in hand.
Well, that's how the commercials make it sound…
But the fact is, you may pay MORE than you would to a realtor. (Surprise, surprise!)
It turns out that these companies are preying on the same soft spot that causes us to get our groceries delivered and our outfits chosen and delivered by clothing experts every week.
The "convenience" of never having to set foot outside our home again, for anything from a generator to a meal from a five-star restaurant, comes at a steep price. Look at the graphic below to get an idea of the price of convenience.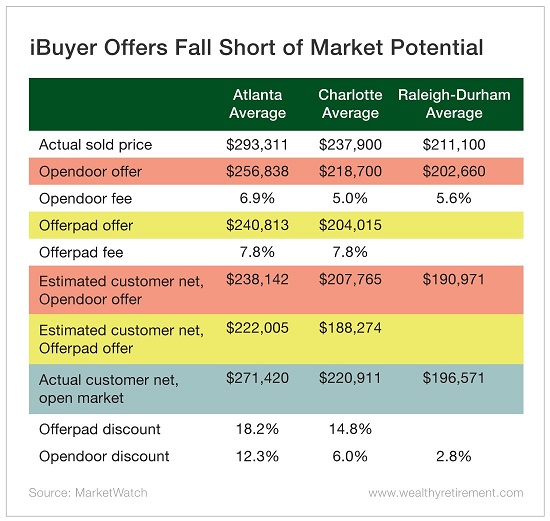 As you can see, both Offerpad and Opendoor ended up costing well more than these sellers would have lost to any of the options I mentioned a couple of weeks ago.
What these companies' ads neglect to mention is that the offers they make are contingent on a home inspection that could knock thousands off the proposed price.
You can bet your bottom dollar that they will find every little thing to nickel-and-dime your final price down. At least, that is what the reviews from people who have had experience with these iBuyers have shown.
Buyer beware when it comes to using these too-good-to-be-true convenience outfits. Sure, take a shot and let them make an offer. You never know, and you're not obligated to sell until you sign on the bottom line and accept their offer.
But you must be prepared to walk – or run – away if the need arises. These companies tend to know little about the subtle nuances or characteristics of the markets they serve. It's all a numbers game, and they can promise big at the outset.
Selling a home is stressful enough that you shouldn't have to deal with a roller coaster of disappointments just for the sake of convenience. Of course, that applies to your realtor as well, should you choose that route.
It's YOUR money… make them ALL earn it!
Good investing,
Karim