Note: Marc is currently attending The Oxford Club's 21st Annual Investment U Conference. In his absence, Senior Research Analyst Kristin Orman will pen Safety Net.
Six months ago, an Oxford Income Letter subscriber asked Marc for his take on Macquarie Infrastructure Corporation (NYSE: MIC). His answer in Oxford Income Mailbag was, "I don't like it."
At the time, SafetyNet Pro gave its dividend a "D" rating.
Macquarie cut its dividend in February 2018, which is a big warning sign. As Marc always says, a company that cuts its dividend once is more likely to do it again.
It's been more than a year since Macquarie whacked its dividend. Let's look at its current dividend safety to see if it's gotten any better.
Cut the Dividend Once, Shame on You… Twice? Shame on Me
Macquarie owns and operates four major business segments.
The company is in the process of selling its renewable power business. The proceeds from this sale and other smaller joint venture interest sales will add about $600 million of cash to its balance sheet.
Upon completion of the sale, Macquarie's business will be organized into three core segments: International-Matex Tank Terminals, Atlantic Aviation and Hawaii Gas.
Macquarie will use the cash, as well as the free cash flow it generates, to pay off debt coming due this year and invest in its remaining businesses.
The company started preparing for these investments last February, when it cut its quarterly dividend by 31% from $1.44 to $1 per share.
That move surprised the market, and Macquarie's stock price plunged 41% in a single day.
But it wasn't the first time that Macquarie made such a drastic move. The company is a repeat offender. It actually suspended its dividend entirely in 2009.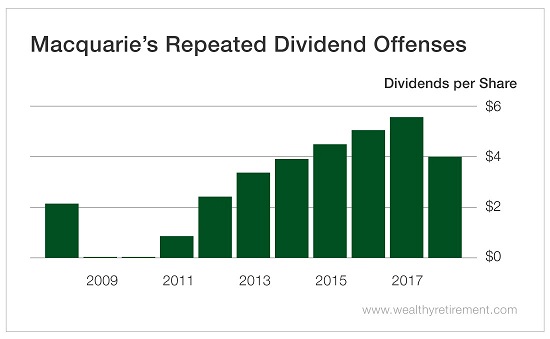 Macquarie's made it clear to investors that the dividend is anything but sacred. That means management won't hesitate to swing the ax again.
Let's see if it'll cut it further soon.
Is the Growth Too Late?
The good news for dividend investors is that free cash flow is heading in the right direction.
The bad news is that it's not being used to raise the dividend. Instead, cash flow is going toward paying down debt and funding capital expenditures that will fuel future growth.
This year, Macquarie's expected to generate $442.6 million of free cash flow. That's up 49.53% from the $296 million it generated in 2018.
It's on track to pay out $347.73 million in dividends, giving Macquarie a payout ratio of 78.57%. As you know, that's higher than SafetyNet Pro's 75% comfort threshold.
In 2018, free cash flow was up 18.45% from $245 million in 2017 – but that wasn't enough to cover the $378.4 million it paid out in dividends.
Although Macquarie is taking steps to invest in its business and balance sheet, its dividend isn't out of the woods yet. If anything, it's gotten worse over the last six months.
Dividend Safety Rating: F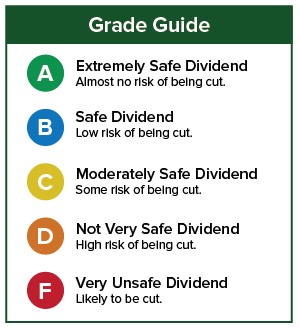 If you have a stock whose dividend safety you'd like analyzed, leave the ticker symbol in the comments section.
Good investing,
Kristin