Iron Mountain (NYSE: IRM) sounds like a metals miner, but it's actually a real estate investment trust (REIT) that specializes in storing information. That could mean holding files in cardboard boxes or digital assets on servers.
Iron Mountain has 85 million square feet of real estate across 1,400 facilities in 50 countries. It has been in business since 1951.
The company pays shareholders a robust 7.9% annual dividend yield. But can investors expect that lofty dividend to continue?
When we examine REITs, we typically look at adjusted funds from operations (AFFO) as the measure of cash flow.
In 2018, Iron Mountain's AFFO grew 16% to $874 million. In fact, AFFO has been on the rise since 2016, and growth is expected to continue through at least 2022.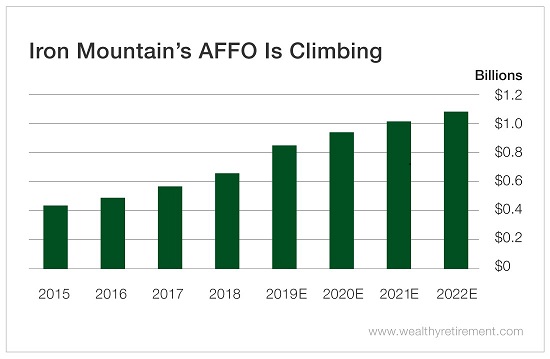 Last year, Iron Mountain paid $674 million in dividends, which was slightly more than the $658 million in AFFO that was generated. That's a problem.
In 2016, the same situation occurred. Iron Mountain paid $506 million in dividends despite generating $491 million in AFFO. However, the company righted the situation the following year when AFFO was meaningfully higher than dividends paid.
With AFFO expected to rise sharply this year and break above $1 billion in 2021, I don't expect the company's dividend to be in jeopardy.
Nine Years of Dividend Hikes
The company's track record of paying shareholders is solid. Iron Mountain began paying a $0.0625-per-share dividend in February 2010. It has raised the dividend every year to its current quarterly payout of $0.611 per share, or $2.44 annually. That comes out to a 7.9% yield.
So we have a slight hiccup with this year's payout ratio where the company paid more in dividends than it generated in cash flow – but it doesn't seem like that's going to be a problem going forward. The nine-year track record gives me more confidence, as management has shown its commitment to the dividend.
Iron Mountain's dividend should be secure for the foreseeable future.
Dividend Safety Rating: B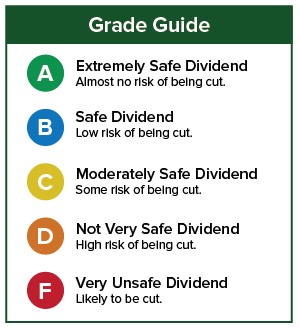 If you have a stock whose dividend you'd like me to analyze, leave the ticker in the comments section.
Good investing,
Marc