A year ago, I wrote about CenturyLink (NYSE: CTL), expressing concern that the company's declining cash flow and mounting debt would put the dividend in jeopardy.
Though the dividend has remained steady since then, the telecom company's financials have eroded.
In 2016, CenturyLink's free cash flow was $1.63 billion. That is expected to fall to $1.13 billion this year according to Bloomberg.
Meanwhile, the company is projected by Bloomberg to pay out $1.17 billion in dividends.
Unless free cash flow comes in above expectations, CenturyLink will pay out more in dividends than it generated in free cash flow. With a 14% yield, that is hardly sustainable.
But it's not all doom and gloom. Thanks to its November acquisition of Level 3 Communications, Bloomberg analysts forecast next year's free cash flow to explode higher to $2.15 billion – easily covering the dividend.
Should free cash flow grow to anywhere close to the $2.15 billion figure, the company would likely get an upgrade, as the dividend could easily be paid for.
When Post says "de-lever" the balance sheet, he's referring to lowering the company's debt level. Additionally, management is committed to the dividend. On its third quarter earnings conference call, CEO Glen Post said, "We realize that dividend is an attractive part of our shareholder return, and we're confident we can continue to pay the dividend while investing in growth and in our network and as we de-lever our balance sheet."
As a result of the Level 3 acquisition, CenturyLink took on a lot of debt.
Net debt (debt minus cash) will go from $19 billion last year to more than $31 billion by the end of 2017.
While the CEO said the company will lower its debt level, Wall Street doesn't believe him. By the end of 2020, Bloomberg analysts expect debt to eclipse $38 billion.
Now, free cash flow takes interest expense into account. So the $2.15 billion projection for next year is after the company has made interest payments on the $31 billion. That's a good sign.
However, generally speaking, we'd like to see companies with lower debt so they don't get into trouble down the road.
If CenturyLink delivers on $2 billion-plus in free cash flow next year, the stock will likely get a big upgrade. That's a big if at this point.
Until CenturyLink proves it can do it, based on actual reported numbers – not forecasts – the dividend is still considered unsafe.
That could change in a year, but for now, it's risky.
Dividend Safety Rating: F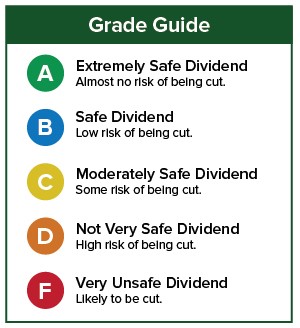 If you have a stock whose dividend safety you'd like me to analyze, please leave the ticker symbol in the comments section below.
Good investing,
Marc
P.S. Are you on Facebook? So am I. You can follow me here.