Money may be the most taboo subject I can think of. Few people I know outside of The Oxford Club like to talk about it, and even fewer people will tell others how much money they have.
In fact, most adults would rather talk to their kids about sex than finance.
Investing, like money, is also off limits. It's not discussed at the dinner table with loved ones or friends.
I'm happy to report that Wealthy Retirement readers are breaking that taboo.
Less than 13% of the respondents to our latest survey said they don't enjoy meeting other investors.
The vast majority said they enjoy meeting other investors. The reasons they cited are all good ones:
5% said that it's because they like learning about new or alternative investments
6% said that it's because they get new trading ideas
18% said that it's because they make industry connections or new friends.
Wealthy Retirement readers are on the right track. They get it.
Building wealth is a lot like building muscles… It's easier when we do it with others.
The buddy system isn't for reaching just your fitness goals. It works just as well for reaching your financial ones too.
It all comes down to accountability and idea generation. Like with exercising, we're more likely to meet our investment goals and ensure we don't get stuck in a wealth-building rut when we talk to others about investing.
A Dominican University of California study looked at the impact of accountability and coaching on goal achievement. Categories of personal goals included increasing income, completing a project, reducing work anxiety, etc. Results showed that more than 70% of participants who sent weekly updates to a friend reported successful goal achievement compared with 35% of those who kept their goals to themselves.
It's not easy finding other disciplined investors. Your family and friends may not be as serious about investing for the future as you are.
That's where investment conferences come in.
These conferences can provide you with a gold mine of useful information and contacts.
Roughly 58% of respondents to our recent Wealthy Retirement survey said that they'd never attended a financial conference. Some said that they'd like to go but don't know which one to attend. Others said that they thought the price of attendance was too expensive.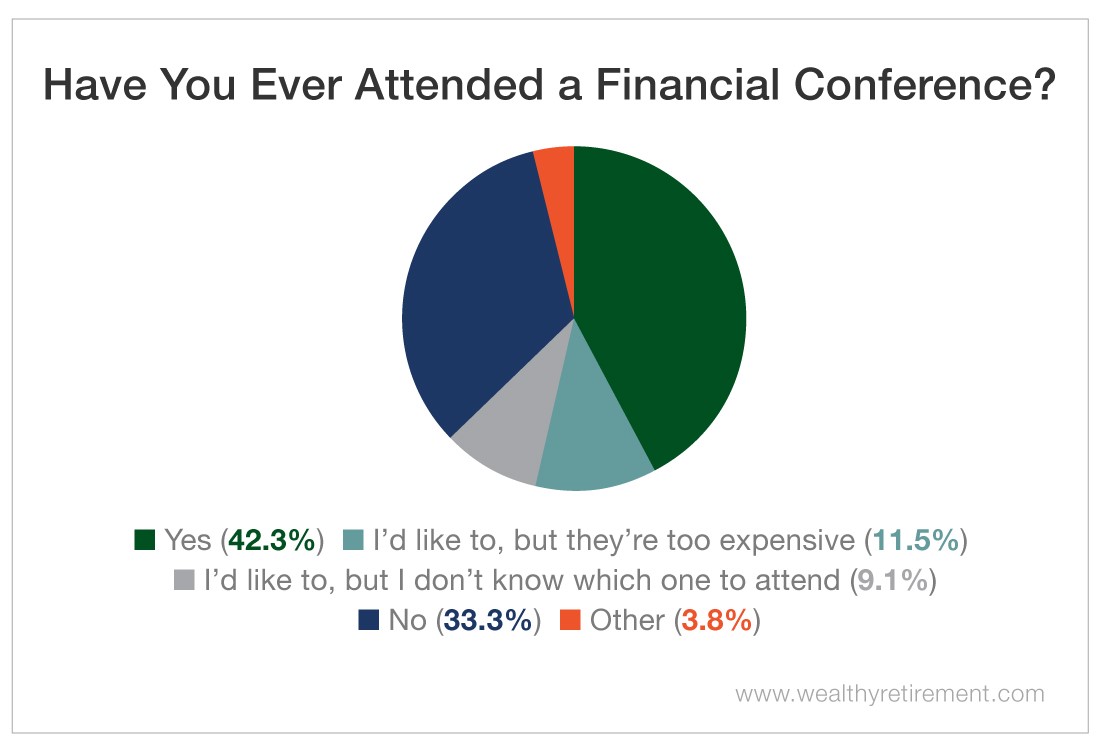 Choosing the right conference can seem overwhelming. Luckily, there's easy solution.
Every spring, the publisher of Wealthy Retirement – The Oxford Club – hosts its biggest event of the year: the Annual Investment U Conference. This signature event brings together more than two dozen of the country's top financial speakers and hundreds of financially savvy attendees. This year, it's focused on one common goal: achieving a seven-figure retirement plan.
This is a great chance to pick the brains of your favorite Oxford Club strategists. They'll present their top profit opportunities – recommendations you won't hear anywhere else. Past conference attendees were able to achieve returns of up to 3,500% and were among the first to catch on to cryptocurrency, so these are ideas you definitely don't want to miss.
Not to mention that Investment U is a great place to meet and mingle with likeminded investors.
This year, Investment U returns to the beautiful Vinoy Renaissance Resort & Golf Club in St. Petersburg, Florida. The event takes place March 28-30, 2019.
Join us as we celebrate more than two decades of extraordinary profit opportunities introduced at this premier event.
As a past speaker and attendee myself, I can attest to the wealth of profitable ideas, networking opportunities and luxurious accommodations we have in store for you. But don't just take my word for it – take it from the attendees who benefitted from the double- and triple-digit gains that 56 of our recommendations made in 2017.
This is the one investment conference of the year that you don't want to miss!
To reserve your spot, simply click here. You can also email Meg Rakes at voyagerclub@oxfordclub.com or give her a call at 410.895.7935 or 833.288.1434.
When it comes to planning how to achieve a seven-figure nest egg, the more the merrier.
Good investing,
Kristin