Conventional wisdom says that rising rates will send the stock market reeling. Investors will start shifting their cash from the higher risk of the markets to the lower risk of investments like U.S. Treasurys, certificates of deposit and the like.
Heck, I am already getting close to 2% on my savings accounts. Last time that happened was before the housing and market crash in 2007. But 2% – while better than zero percent – is still not going to keep up with inflation. And it certainly won't provide a healthy or wealthy retirement.
The stock market is still the best long-term game in town. Despite what you hear about rising rates and the threat to the markets, there just isn't enough evidence to back those claims up.
Sure there will be shifts as rates clear magical levels like 3% and 4%. People will certainly move money to safer investments that pay interest and protect principal.
But that will not be the case for the majority of institutional investors who look for above-average market returns. After all, no one is going to pay a mutual fund or hedge fund that advises to stay in cash or buy a CD.
But rising rates aren't always bad for the markets.
The markets have done quite well in environments where interest rates are moving higher. There are exceptions, of course, but you should not be heading for the exits solely because rates are going up.
The graphic below is proof. As you can see, the markets have put in a positive performance during periods of rising rates. In fact, since 1996, the markets have had a 100% success rate when rates were moving higher. That's an enviable record.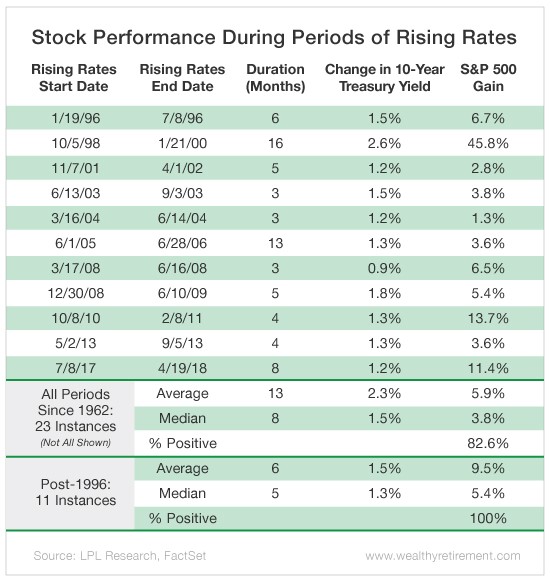 Look at the period between October 1998 and January 2000. During that 16-month period, the yield on the 10-year U.S. Treasury bond rose 2.6% – that's the equivalent of 10 quarter-point rate hikes. The markets, as measured by the S&P 500 Index, moved higher by more than 45%.
Rising interest rates are a sign of an economy that is getting stronger, not weaker. A strong economy means companies and individuals are making more money and spending more money – and the markets reflect those trends.
So before you completely dismiss the markets because of what the punditry is spouting on the news, keep this in mind: If you are investing in the right companies at the right prices, your returns will outpace those of your savings accounts despite rising interest rates.
Good investing,
Karim