Chimera Investment Corporation (NYSE: CIM) invests in residential mortgages.
Currently, the company makes enough money to pay its dividend. But can you consider the dividend safe?
Chimera pays per quarter. That comes out to a hefty 10.6% annual yield.
Mortgage real estate investment trusts (REITs) borrow money short term and lend it long term. The difference, after expenses, is net interest income (NII). It's the measure we use to determine whether a mortgage REIT can pay its dividend.
Chimera's NII has been pretty flat for the past few years.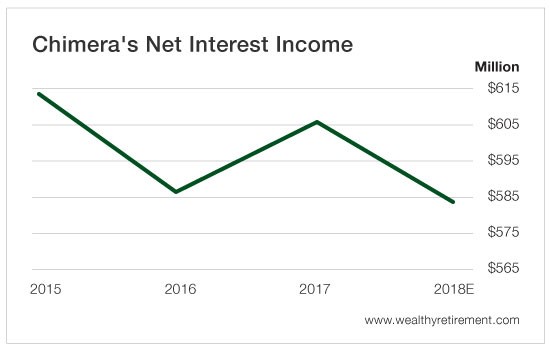 In 2015, Chimera's NII was $613 million. It fell to $586 million the following year. In 2017, it climbed back above $600 million, but this year its NII is expected to be at its lowest level since 2014.
Fortunately for Chimera investors, its NII still covers the dividend.
This year, the company is forecast to pay $375 million in dividends for a comfortable 64% payout ratio.
However, the company has a sordid history of dividend cuts.
It cut the dividend in 2009 and 2013. Then in 2015, the company did a reverse split but kept the dividend per share the same, essentially giving shareholders an 80% haircut in dividend payments.
So although Chimera's NII covers the dividend now, it's headed in the wrong direction. And with the company's history of slashing the dividend, investors can't feel too secure that Chimera's dividend will be stable in the future.
Dividend Safety Rating: F
If you have a stock whose dividend safety you'd like me to analyze, leave the ticker symbol in the comments section below.
Good investing,
Marc