It's been a tough year for Uniti Group (Nasdaq: UNIT). The stock has been cut in half in the past 12 months. Though it could be worse. Uniti was spun off from Windstream Holdings (Nasdaq: WIN), which has lost 83% of its value during the same time.
Uniti dislodged from its troubled parent in 2015. It provides communications technology such as fiber and towers, but it is set up as a real estate investment trust (REIT), so it must pay shareholders 90% or more of its earnings in the form of dividends.
As a result of the stock's sharp decline, it currently yields a whopping 16.5%.
Can this ginormous yield be the one point of comfort for investors?
No.
This year is forecast by Bloomberg to be a better one for Uniti than 2017 was. Last year, funds from operations (FFO), a measure of cash flow reported by REITs, declined 2.5% to $337 million from $346 million. However, in 2018, Wall Street expects FFO to climb to $403 million.
That's a meaningful jump.
However, it's still not enough.
The current annual dividend is $2.40 per share. But Uniti added 20 million shares to its shares outstanding in the third quarter. If the share count remained the same in 2018 as it was in the early part of last year, the projected FFO would cover the dividend. Barely, but it would.
With the additional 20 million shares, Uniti will pay out $421 million in dividends, eclipsing the $403 million Bloomberg estimate in FFO by $18 million.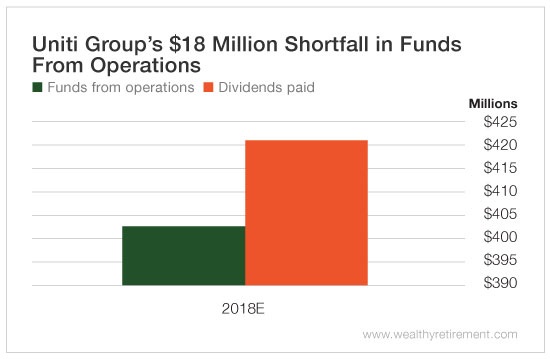 Where Will the Money Come From?
So here's the problem. If Uniti generates $403 million in FFO but will pay $421 million in dividends, where does the money come from to make up the shortfall?
Unlike the U.S. government, the company can't pay with funds it doesn't have.
As of September, it had only $50 million in cash on its balance sheet. That's not very much, and management probably won't want to burn through the cash to pay dividends. So that means it will likely sell more shares, diluting shareholders and increasing the amount it will have to pay to shareholders in the future. Unless Uniti is able to grow FFO beyond what it pays in dividends next year, it will be a continual problem.
Uniti can't afford its dividend. It couldn't last year either. And with a 16.5% yield, there is plenty of room to cut and still offer shareholders an enticing payout. Expect a dividend cut in the future.
Dividend Safety Rating: F
If you have a stock whose dividend safety you'd like me to analyze, leave the ticker symbol in the comments section below.
Good investing,
Marc