Stocks are known to climb a "wall of worry." As stocks rise, investors get concerned that their hard-fought gains could quickly be wiped out by a bad whoosh down in the market.
When markets tank, few stocks are immune. But there are ways of determining whether your stocks are likely to get absolutely smoked or simply drift a bit lower.
One of the key metrics to look at to figure out how susceptible your stocks are to a drastic fall is called beta.
A stock's beta compares a stock's volatility with the overall market. The market's volatility is always 1.
So a stock with a beta of 2 is twice as volatile as the market, and a stock with a 0.5 beta is half as volatile as the market.
Theoretically, if the market falls 10%, the stock with the 2 beta should drop 20%, and the 0.5 beta security should decline 5%.
The same is true when the market goes higher. A higher-beta stock would be expected to outperform a lower-beta stock in a strong market.
The beta values vary, but they do give you a good idea as to how a stock should move in relation to the overall market.
The largest decline in the S&P 500 in 2019 was 7%, between May 1 and June 3. Let's look at how a few high- and low-beta stocks performed during that period.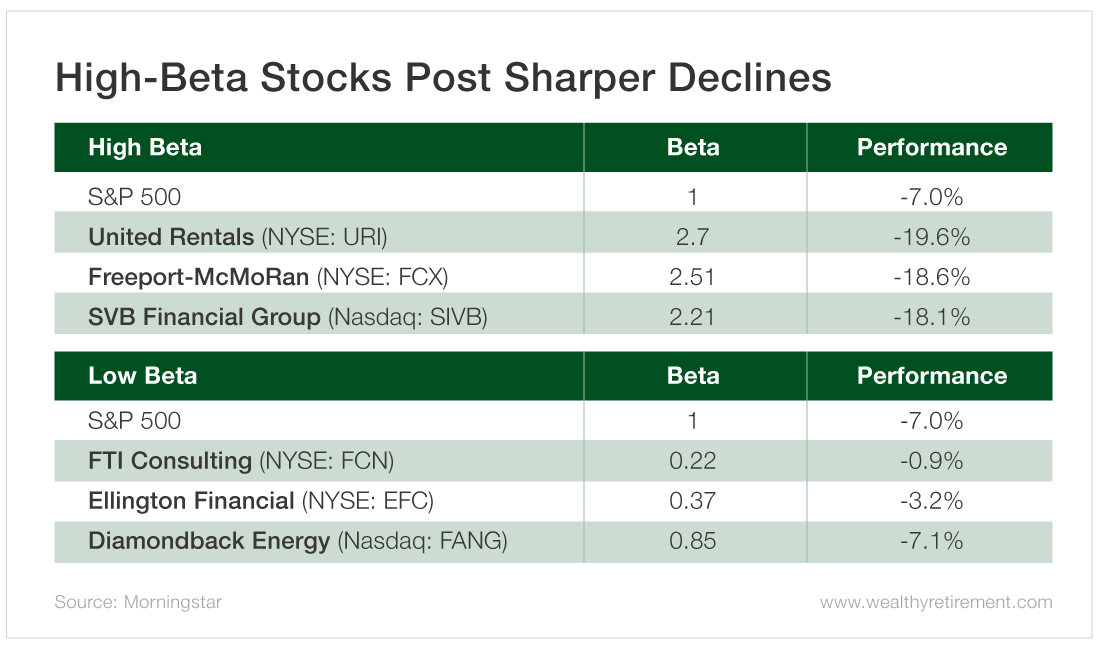 You can see in the table that United Rentals (NYSE: URI), which has a 2.7 beta, fell 19.6% when the market dropped 7%. The stock's beta suggests it would have fallen 19%.
Freeport-McMoRan (NYSE: FCX) and SVB Financial Group (Nasdaq: SIVB) also performed according to expectations.
Of the low-beta stocks, FTI Consulting (NYSE: FCN) has a very low 0.22 beta. During the May 2019 downturn, the stock barely budged.
Ellington Financial (NYSE: EFC) also fell less than the S&P. Diamondback Energy's (Nasdaq: FANG) beta is close to 1, and the stock performed in line with the market. Since its beta is a little lower, you might have expected slightly better performance.
But it's important to note that beta is not a crystal ball. It is not a guarantee of a certain return. It's more of a guideline.
Stocks with high betas can rise during a market fall, and stocks with low betas can slide when the market climbs. Much of that will depend on company news.
But as a general rule, beta is a valuable tool to help you understand your risk in the event of a decline.
Good investing,
Marc