Nearly 85 million American households own pets. These pet lovers will spend roughly $96 billion yearly by 2020.
This makes pet pharmaceuticals a $6 billion a year business and growing. PetMed Express (Nasdaq: PETS) is America's largest pet pharmacy.
But will America's love affair with its pets translate into a stable dividend?
Thanks in part to the booming industry, PetMed Express has grown its cash flow over the past several years. And next year, cash flow is forecast to spike.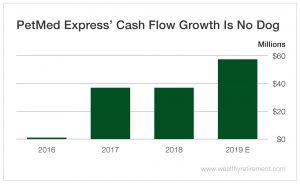 The stock's attractive 4.75% yield is fueled by $17.5 million in dividends paid last year. In 2019, that number is expected to rise to $21.3 million. That gives PetMed Express a low 37% payout ratio.
A stock's payout ratio is the percentage of earnings or cash flow that is paid out in dividends. I calculate payout ratio using free cash flow, which is the most conservative measure of cash flow and reflects the amount of cash that truly comes into a business. Earnings, on the other hand, includes all kinds of noncash items in its calculation.
In other words, in PetMed Express' case, for every $1 in free cash flow, the company paid shareholders $0.37 in dividends. That is low, which is a good thing. That means that if cash flow were to decline, there would be plenty of room for the company to continue to pay the dividend without having to cut it.
If a company paid out all or most of its cash flow in dividends and hit a rough year or so, it would have to either dip into cash on hand or borrow money to pay the dividend. Otherwise, the dividend would have to be cut.
In this case, there is so much wiggle room that management could continue to raise the dividend as it has for each of the last nine years.
The fact that it has a solid track record of paying and raising the dividend bodes well for future dividend payments.
PetMed Express' strong cash flow growth easily covers the dividend, which means shareholders can feel as comfortable with their dividend as a little one with their best friend.
Dividend Safety Rating: A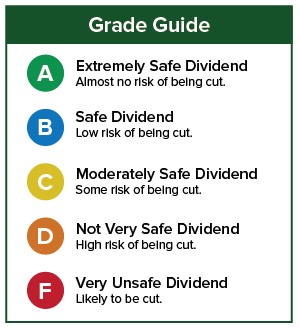 If you have a stock whose dividend safety you'd like me to analyze, leave the ticker in the comments section.
Good investing,
Marc