The Eagles won the Super Bowl in 2018… Villanova won the NCAA men's basketball championship in 2016 and 2018.. and the Philadelphia 76ers are on the rise.
Philadelphia sports teams have been quite successful lately, as my friends from Philly constantly remind me. (As I'm a New Yorker, you can imagine how much this stings.)
The same can't be said for investors in Philadelphia-based Pennsylvania Real Estate Investment Trust (NYSE: PEI). The stock is down 73% since its high in 2016.
The company owns retail real estate, which is based mostly on the east coast of the United States. Its portfolio includes the Cherry Hill Mall in Cherry Hill, New Jersey; the Dartmouth Mall in Dartmouth, Massachusetts; and the Wyoming Valley Mall in Wilkes-Barre, Pennsylvania.
Pennsylvania REIT raised its dividend every year between 2012 and 2015. The quarterly dividend has stayed put at $0.21 per share since February 2015.
The good news is the company can afford the current dividend. The $0.84 per share that it pays to shareholders annually was easily covered in 2018 when the company generated $1.43 per share in funds from operations (FFO), the measure of cash flow used by real estate investment trusts (REITs).
And this year's expected FFO of $1.24 should also allow the company to pay the dividend.
The problem is that FFO has consistently declined for years.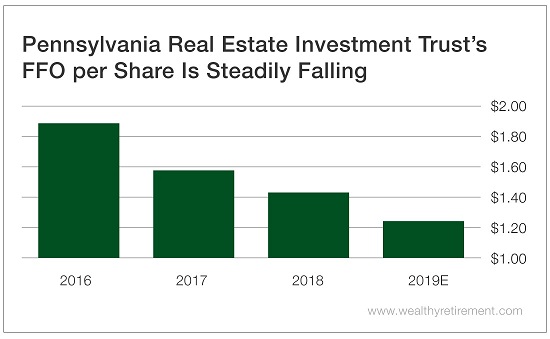 It's easy to look at Pennsylvania REIT's stock and be attracted to the 12% yield. But when you dig deeper and realize that the company generates less cash flow each year, you'll realize that if management is unable to reverse that trend, eventually the dividend will be in jeopardy.
I don't necessarily expect a dividend cut in the next few months, but I wouldn't be surprised if the company reduced the dividend in late 2019 or in the first half of 2020.
FFO has to increase; otherwise, shareholders should get as nervous as Sixers fans when Kevin Durant signs with the Knicks (wishful thinking from this long-suffering Knicks fan).
Dividend Safety Rating: F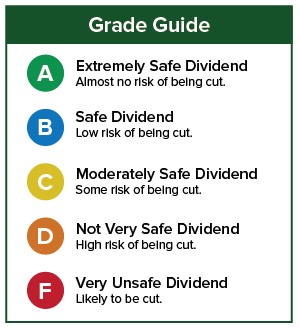 If you have a stock whose dividend safety you'd like me to analyze, leave the ticker symbol in the comments section.
Good investing,
Marc