The Top 10 A-Rated Dividends
If you've needed income over the last eight or nine years, chances are you turned to the only place you can still make any real money… dividend-paying stocks.
That wasn't a bad decision. Actually, it's believed that dividends are the one great source of income left.
However, for many of the supposedly "safe" dividend payers, that may be about to change.
With so many investors using dividends to generate income and create wealth, it's vital that they understand how safe those payouts are.
Drowning in Debt
Many companies have become overleveraged.
With access to such cheap money, they're borrowing and borrowing… spending and spending. And as a result, their cash flows are drying up.
When that happens, they have no choice but to take extreme measures… like cut their dividends. And if you've ever had one of your investments do that to you, you know it can devastate your portfolio.
Take Transocean Ltd. (NYSE: RIG), for example, one of the world's largest offshore driller.
The company operates more than 50 mobile offshore drilling units around the globe and rents its equipment out to major gas companies. For years, it's paid a nice, steady dividend.
But in 2014, with the price of oil plummeting, production careened off a cliff. So to save money, gas companies began canceling their rental contracts.
As a result, Transocean suddenly found itself with millions of dollars in unused equipment… just lying in the middle of the ocean. And soon, the company started to run out of cash.
In February 2015, in a desperate attempt to manage its liquidity, it slashed its annual dividend from a healthy $3 per share down to just $0.60. Ouch!
With that 80% dividend cut, investors got crushed.
But they didn't have to be… There was a way they could have predicted that fall from grace.
You see, we've designed a proprietary tool that will show you exactly how to avoid stocks like Transocean AND how to invest in ones that will keep paying their dividends without interruption.
We believe that dividends are the easiest and most reliable investment vehicle to make you rich. A 2014 study from Dreyfus showed that, over the history of the markets, 50% of total returns came directly from dividends. But like any other kind of investment, they're not foolproof. You have to know how to spot the bad ones… and the good ones.
The Clorox Company (NYSE: CLX) is a great example of one of the good ones. It's raised its dividend every year since 1977.
Let's say you invested $1,000 in Clorox in 1983 and reinvested your dividends each year after. Your shares would be worth $103,058 today.
An initial investment of $5,000 would be worth $520,443.
The point is… if you can identify companies that have the ability to pay and even raise dividends in a consistent fashion, you WILL make money… and lots of it.
That's a fact. And it's a great reason to love dividends.
With SafetyNet Pro, you will know when a stock is a safe play.
It will guide you into companies with little risk of dividend cuts no matter what's happening in the markets… and help you avoid companies that will cut theirs at the first sign of turbulence.
Those "bad" companies sometime lure you in with fat yields and promises to keep payouts high. But the fact is… some companies just don't have the strength to continue fulfill those pledges.
Western Asset Mortgage Capital Corporation (NYSE: WMC) is a good example of those cautionary tales.
Back in 2013, investors were happy with WMC's payout. It paid $0.95 per share… a yield of over 15%. And the stock price was doing well.
But before too long, the company didn't have enough cash to pay its promised dividends. There were a few small increases along the way but, it dropped the payout to $0.90 a share… then $0.67… then $0.64… then $0.60… then $0.58… then $0.45 and now $0.31.
Meanwhile, the stock dropped more than 50%. Investors lost over half their money!
So what was the difference between Western Asset and Clorox? That's what SafetyNet Pro helps you determine.
Check the Grade
There are several factors that indicate if a dividend is safe or at risk of being cut, including the company's cash flow, dividend track record and other metrics… all of which the SafetyNet Pro tool analyzes.
You simply type in the symbol of any dividend stock, and it will tell you whether the system says it is safe or in danger of being cut.
If you're smart about your income, you know you need investments with stable returns. And that's just what this system shows.
Each stock receives a grade based on its overall safety level, a measure of how likely the company is to cut its dividend payout.
Once the stock runs through the gauntlet of security checks, SafetyNet Pro assigns a grade to the stock.
Much like a report card, it grades each company on a scale of "A" through "F." An A grade means the dividend is safe and there is almost no risk of it being cut. An F means it's very likely to be reduced in the near future.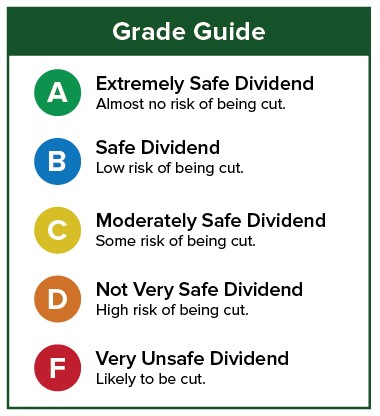 The system is very accurate with its predictions and remains completely up to date. It incorporates new data every time a company's quarterly report comes out.
A company's safety grade can change over time. So it's important to check the ratings on a consistent basis.
And it is easy to use. It does not bog you down with complex information. You simply enter the stock symbol and receive the stock's safety grade.
SafetyNet Pro is reserved exclusively for subscribers to Marc Lichtenfeld's monthly newsletter, The Oxford Income Letter.
If you would like to see what grades your portfolio would receive, you need to check out SafetyNet Pro. (For more information, click here.)
If you do, your portfolio could have many of the A-rated stocks listed below.
As you can see in the list above, these A-rated dividend stocks have yields ranging from 5.73% up to 11.52%. And there are currently another 166 similarly ranked companies in SafetyNet Pro.
But there are nearly 330 stocks rated D and F. You will want to make sure your portfolio isn't holding one of these risky payers.
Good investing,
Wealthy Retirement Research Team
P.S. I've been working for months on a secret income project, and I just hit a breakthrough.
"Since publishing my book, Get Rich with Dividends, I've helped thousands of people achieve their retirement goals.
And today, I'm going to share with you perhaps one of the most astonishing income strategies I've ever uncovered from our trusted partner, Alexander Green – Chief Investment Strategist at The Oxford Club.
Check out Alex's presentation on what he's calling "The Single-Stock Retirement Play"
This may help end the retirement crisis in America.
Hoping these A-Rated Dividend Stocks help you, and looking forward to hearing from you soon,
Marc Lichtenfeld
Chief Income Strategist, The Oxford Club