It's the holy grail of dividend investing.
A high yield, rock-solid fundamentals, cash flow growth, plenty of cash to pay the dividend and a strong history of dividend increases…
It's no wonder that Enterprise Products Partners (NYSE: EPD) is a favorite among income investors.
This master limited partnership (MLP) is one of the largest publicly traded pipeline companies. It last paid a $0.425 quarterly distribution (MLPs pay distributions, not dividends), which comes out to 6.5% annually. That number is likely going higher, as the company has raised its distribution for the last 26 quarters in a row.
Enterprise Products has also boosted the distribution in each of the past 18 years.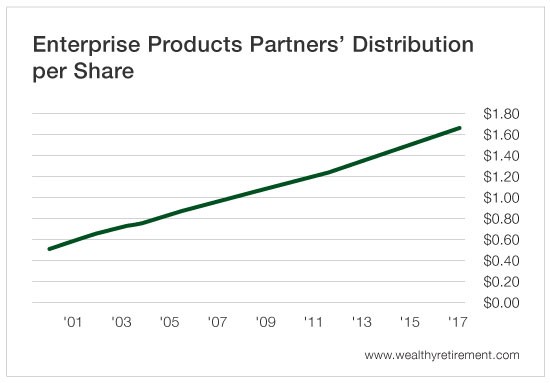 Can it continue to do so?
In 2017, it paid out $3.57 billion in distributions while generating $4.5 billion in cash available for distribution (a measure of cash flow used by MLPs). In other words, it paid investors 79% of the cash it generated. This percentage is known as the payout ratio.
This year, though, it is forecast to generate even more cash and pay a higher distribution. The payout ratio is projected to drop to 75%.
The lower the payout ratio, the more breathing room a company has to sustain the dividend or distribution, even if it experiences a difficult year or two.
In 2018, Wall Street expects Enterprise Products' cash available for distribution to grow to $4.82 billion while the company pays out $3.63 billion in distributions.
Enterprise Products is growing, generating lots of cash to cover the distribution and maintaining a stellar track record of dividend raises with no cuts.
It's tough to find a safer yield above 6% than Enterprise Products'.
Dividend Safety Rating: A
If you have a stock whose dividend safety you'd like me to analyze, leave the ticker in the comments section below.
Good investing,
Marc