Enviva Partners (NYSE: EVA) is trying to do a lot of good – for the environment and for investors.
The master limited partnership (MLP) exports wood pellets to be burned in place of coal at electric utilities in Europe. It aims to reduce greenhouse gasses while protecting forests in the southern U.S. and providing jobs in rural areas.
That's all admirable stuff.
But is Enviva's distribution (MLPs pay distributions not dividends) worthy of admiration too?
Enviva Partners has been publicly traded since only April 2015. It started paying a distribution in August of last year and has increased the payout every quarter. The last distribution – paid earlier this month – was $0.53 per unit (MLP investors own units not shares). That amounts to an annualized yield of 7.3%.
In the first nine months of the year, Enviva generated $55 million in distributable cash flow (DCF) while paying out $37.8 million in distributions for a payout ratio of 69%. That's within my comfort zone of 75% or lower.
Next year, the company forecasts DCF will be between $76 million and $80 million. I estimate it will pay right around that amount in distributions, which may be cutting it close if Enviva's DCF isn't as strong as it expects.
Enviva has a short but impressive distribution history. Since going public last year, it has paid unitholders six quarterly distributions. Each one was larger than the previous quarter.
The most recent distribution increase was small. The raise was half a cent to $0.53.
I don't have a problem with such a tiny increase. It's reasonable when you consider Enviva has raised its payout to investors significantly over the past year, and next year, it will likely pay out all of its cash flow in distributions.
I'll be keeping a close eye on that payout ratio. If it goes above 100%, that puts the distribution in danger.
But at this point, the only other thing I can hold against Enviva Partners is its very short track record. Companies with long track records of dividend payments are often more predictable. We have no idea how Enviva's management will handle its distribution, particularly during tough times.
Dividend Safety Rating: C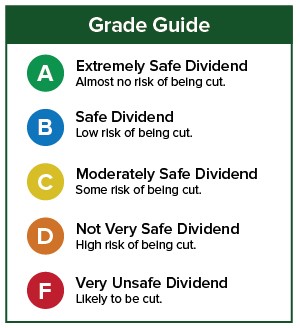 If you have a stock whose dividend safety you'd like me to look at, please leave the ticker symbol in the comments section.
And be sure to check out our more recent dividend Safety Net articles.
Good investing,
Marc