This Tanker's 9.5% Yield Is Sinking
The business of shipping oil is cyclical.
When oil prices go down, as they did in 2014, it's because more of it was pumped out of the ground than is being used. It creates a supply glut, which needs to be shipped and stored. So the rates tankers charge oil producers to transport it go up.
Conversely, when oil prices go up, less oil is being produced, shipped and stored. So tanker rates go down.
That's one reason why oil tanker companies are serial dividend cutters…
When times are good, free cash flow rises, and the dividend grows with it. But when times are bad and cash flow falls, the dividend heads south, too.
The latter is happening now.
Oil prices have risen steadily this year as production continues to fall. Consequently, the market for transporting oil is weakening, and tanker rates are falling.
As we know, when tanker companies are being squeezed, their dividends are, too.
In January, Nordic American Tankers (NYSE: NAT) cut its dividend by more than 23%. And in February, Scorpio Tankers (NYSE: STNG) slashed its dividend by 92%.
And right now, another shipping company is at risk of slashing its dividend…
Will Frontline Ltd. (NYSE: FRO) follow the trend?
Let's take a look.
A Lackluster Track Record
Frontline's dividend track record is less than stellar. It has a nasty habit of raising and then cutting or even eliminating its dividend.
And there's a reason Frontline's dividend history is so choppy…
Frontline's dividend policy is based on earnings per share (EPS). It tries to pay dividends equal to nearly 100% of earnings.
If EPS goes up during the quarter, the dividend should, too. But when EPS falls, the dividend tanks with it.
Accelerating Cash Burn
SafetyNet Pro normally looks at cash flow, not earnings, to determine if a company can afford its dividend. That's because earnings exclude important costs – such as the expense of updating and replacing old tankers.
SafetyNet Pro is a groundbreaking tool that predicts dividend cuts and raises with stunning accuracy. With it, you can determine the dividend safety rating of nearly 1,000 stocks. Access to SafetyNet Pro is reserved exclusively for subscribers of Marc's newsletter, The Oxford Income Letter. To learn more about SafetyNet Pro and The Oxford Income Letter, click here now.
But when we consider free cash flow, the outlook for its dividend is just as bleak…
Frontline has negative free cash flow. It hasn't posted positive free cash flow since 2012.
Even worse, Frontline's cash burn is expected to nearly double this year.
It will burn $624.8 million this year compared to $336.4 million in 2016.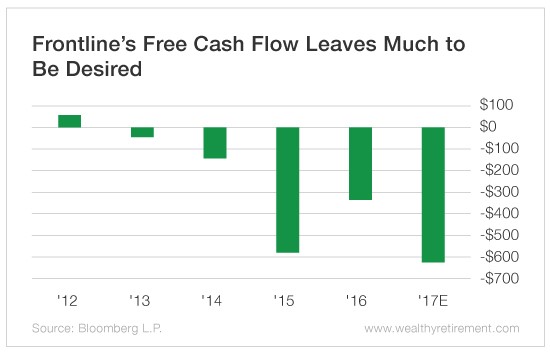 It's projected that EPS will drop, too. It's expected to slide from $0.75 per share in 2016 to just $0.11 per share this year.
Analysts are expecting another dividend cut this year. They think Frontline's dividend will decline 75% to $0.26 this year. That follows a 40% dividend haircut in 2016, when dividends per share slid from $1.75 to $1.05.
And we agree…
With its variable dividend policy and negative free cash flow, another dividend cut is nearly certain.
Frontline is another example of why shipping is not a safe business model when it comes to paying dividends. If you're looking for a reliable payout, you're better off looking elsewhere.
Dividend Safety Rating: F
If you have a stock whose dividend safety you'd like us to analyze, leave the ticker symbol in the comments section below.
Good investing,
Kristin